When researching tools for small businesses, you have a lot of software options to consider:
Project management solutions to help various teams keep tabs on their tasks and initiatives
A customer relationship management (CRM) system to track customer interactions, revenue growth, and which products and services clients and buyers purchase
Social media management software to monitor brand mentions and engage your audience
Accounting software to manage worker payroll and detect areas where you can save money
The list of cloud-based management tools goes on and on for today's small business owners.
One often overlooked small business technology many SMBs neglect to prioritize investment in today is an applicant tracking system (ATS) for their HR team's recruiting function.
Recent Employ research finds only a modest percent of small businesses (50%, to be exact) have an ATS to help their recruiters better attract, engage, manage, and analyze job candidates today.
If your SMB is one of these companies, it's time to add this missing piece to your tech stack so you can implement a more cost-effective recruitment and hiring approach.
Specifically, one that relies far less on manual processes (read: spreadsheets) and empowers your entire talent team — regardless of size — to work and hire smarter.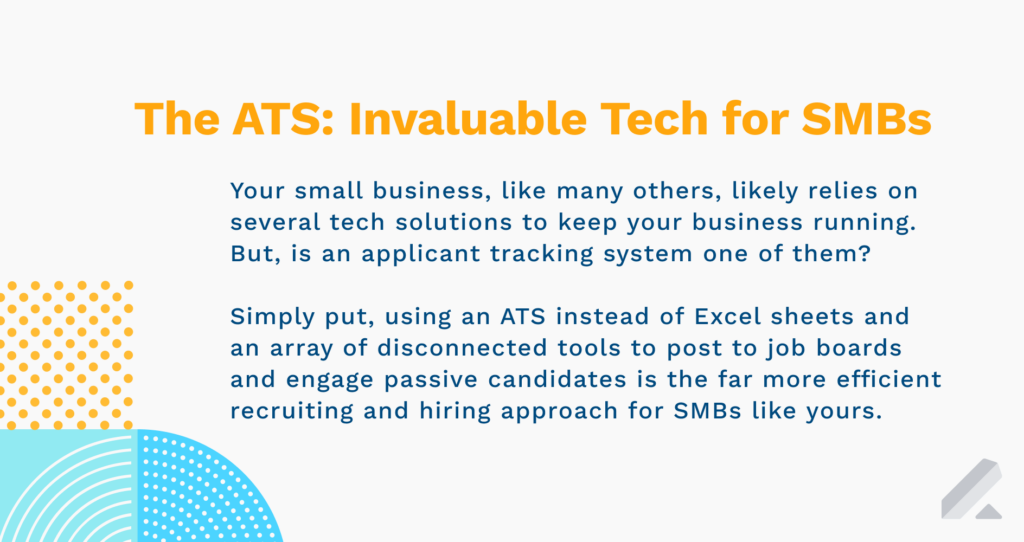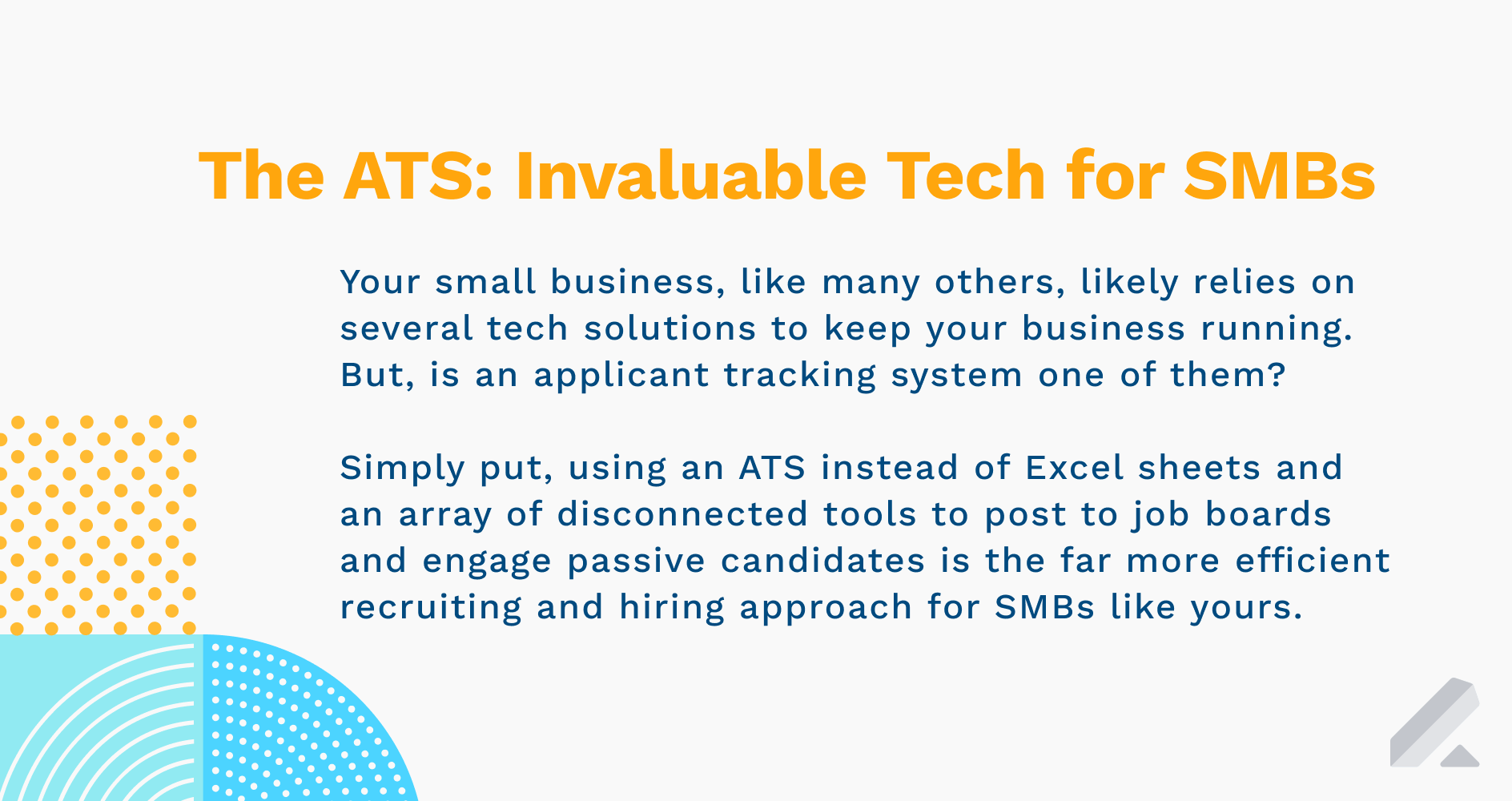 What makes the ATS an invaluable small business technology for your talent team
The above digital tools certainly play a big role in your SMB's success today. But, a purpose-built ATS system stands alone as a leading small business technology today in that it addresses a pain point you probably didn't realize existed on your HR team:
Inefficient recruiting processes that lead to wasted effort
With a best-in-class applicant tracking system like LeverTRM, your recruiting staff and hiring managers can ditch dependence on disparate tech tools to post openings to job boards, publish ads on social media, and track progress with active candidates you collectively interview.
Instead, you can all use a single, centralized talent acquisition solution in which you can:
Keep a close eye on activities tied to active candidates so you can see which deserve immediate attention (e.g., followup emails, interviews scheduled, hiring updates)
Post jobs universally to all "proven" job boards (i.e., ones that generate a high quality and quantity of candidates) with just one click and in a matter of minutes — not hours
Test different candidate nurture campaigns and mediums (email, text, InMail) to see which messaging approach leads to the most opens and replies from candidates
Consolidate notes and ratings associated with interviewed candidates so the entire hiring team has visibility into those conversations and one another's feedback and scores
Send customized job offer letters featuring e-signature forms directly from the platform and get notifications in the ATS when a candidate accepts or rejects an offer
Nearly half (46%) of companies, including many SMBs, will allocate spend toward more advanced applicant tracking systems in 2024, per Employ's 2023 Recruiter Nation Report.
That's clear-cut evidence the software is a premier enterprise, mid-market, and small business technology all employers need to build scalable and streamlined hiring strategies.
"Optimize your talent acquisition technology tech stack by ensuring it is tailor-made for the complexity, size, and hiring needs of your business," our Recruiter Nation Report noted. "By investing in purpose-built technology, companies can ensure they are more competitive to connect with the right talent and streamline their [recruiting and hiring] approach."
And there's no better built-for-purpose tech for SMBs such as yours than ATS software.


Invaluable ATS capabilities: The most helpful features of the small business technology
Those are the core use cases of the recruiting-oriented small business technology. But, what exact features and functionality do leading applicant tracking software providers offer today?
In short, there are a few key ATS capabilities — in the case of the examples below, in LeverTRM — that lead to more efficient and quicker hiring cycles for SMB talent teams.
They're also ones that reduce the need to use a hodgepodge of tools simply to execute each individual talent acquisition activity.
Here are a few examples of successful, scaling companies that use our recruiting software to realize their modest headcount growth goals and strengthen their internal hiring operations.
1) Native talent sourcing tools to better connect with passive candidates
BenchSci, an AI tool for drug discovery, uses our built-in sourcing and automation features to reach out to passive candidates and assign them to relevant opportunities in their pipeline.
This, in turn, has simplified their sourcing efforts. (And made their recruiters' jobs far easier.)
"We've implemented … automations to help with regular HR processes, including candidate sourcing, lead management, and administrative tasks," said BenchSci Head of People Operations Roald Harvey. "All of these things build capacity for my team to focus on more impact-driving initiatives."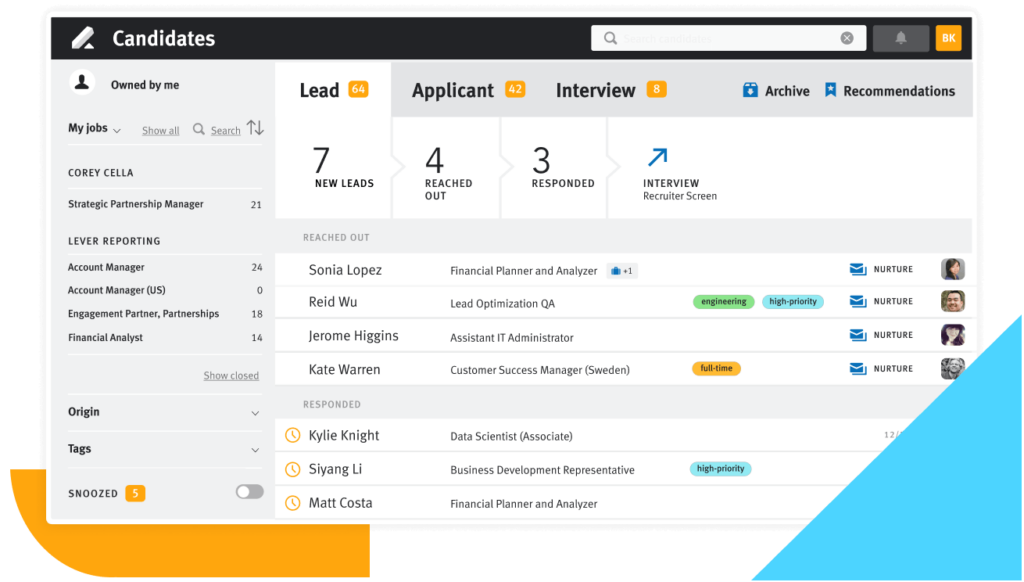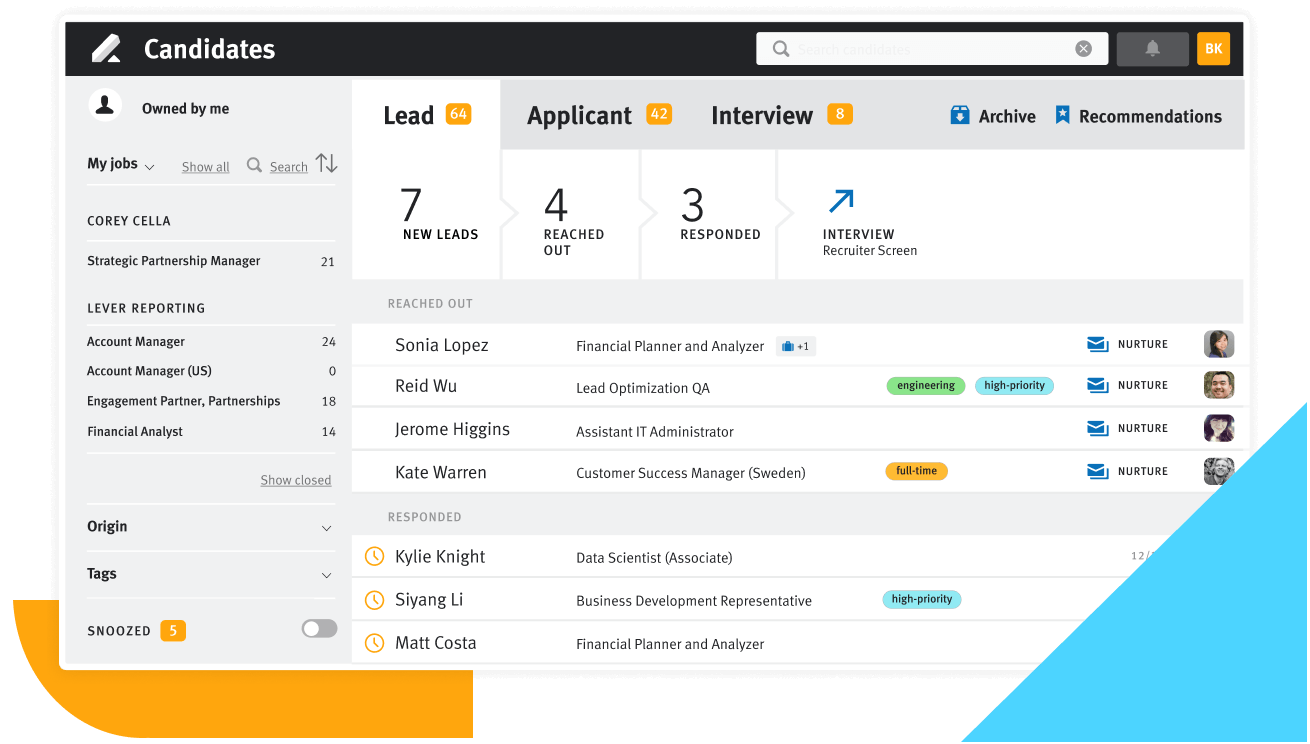 2) Out-of-the-box, easy-to-customize nurture campaign templates
Insomnia Cookies is technically an enterprise. However, the org doesn't just use LeverTRM to amplify its hiring strategy for corporate roles. It also empowers field leaders at its franchisees to use our ATS to hire smarter. And that includes sending bespoke nurture messages to leads.
Insomnia Cookies Director of TA and Onboarding Matt Bucher noted a big benefit of our talent nurturing functionality is the ability to monitor ongoing and past discussions with potential hires and use that info to inform new communications with passive prospects.
"Everything kind of tracks within Lever," said Matt. "So, there's always a way to reference back timestamps and any type of conversations so that it's not ancillary to the platform. All that information is captured right in the solution and available to reference as needed."
3) User-friendly, robust data analytics that offer in-depth hiring insights
Biotech firm Kernel has a meager recruitment function, but still wanted to be able to use data tied to its hiring funnel to ensure it made the smartest possible decisions regarding which specialized candidates (e.g., neuroscientists, engineers) to engage for open roles.
The business previously relied on the now-defunct Google Hire to post jobs on relevant career communities where it could find the appropriate prospects in certain fields.
When that solution deprecated, though, Kernel turned to Lever, which not only offered much more in the way of applicant-tracking and CRM capabilities, but also easy-to-navigate dashboards that could provide rich insights into their hiring efforts.
"We needed something that could hold all of our candidate data [and] be intuitive for hiring managers to use with very little training," said Kernel Dir., HR & Recruiting Srbouhi Uzunyan.
Looking to augment your small business technology stack with ATS software? Speak with our team today to get insights into our advanced recruiting software for SMBs like yours.