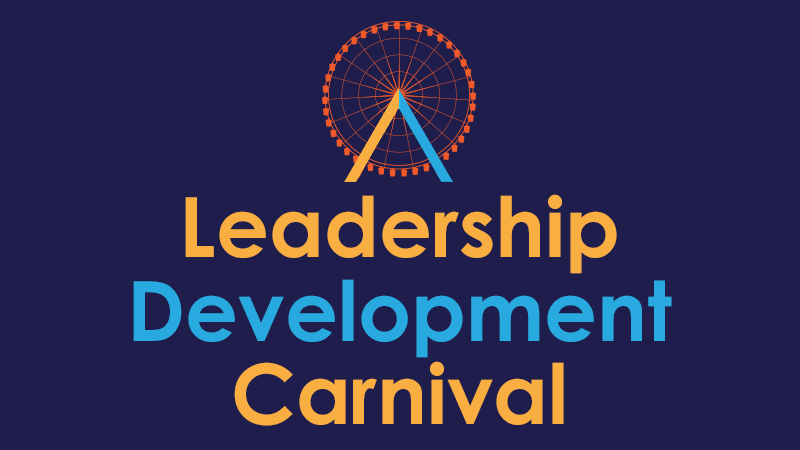 Great Results Teambuilding is the home of the April 2023 Leadership Development Carnival…
It's an honor to host this impressive version of monthly curated articles with insights that will equip YOU to become a more effective leader!
I'm excited to share this collection of 27 posts submitted by world-class authors and leadership experts on the topics of communication, inspiration, development, and engagement.
So, pour yourself a coffee (or your favorite beverage) and click through the below assortment of wisdom to discover a few valuable ideas to apply with your team…
Randy Conley  – The 4-Point Test to Evaluate a Person's Trustworthiness
Most people think they're pretty good at knowing whom to trust, but research shows our "trust radar" is often wrong. Randy Conley shares how you can make competent and confident decisions in trusting others in, The 4-Point Test to Evaluate a Person's Trustworthiness.
Connect with Randy on Twitter at @RandyConley 
Wally Bock – Leadership Storytelling
You may not be Abraham Lincoln, but there's at least one way you can be like him. His enemies criticized him for many things. But they all agreed that he was able to tell a story for almost any situation.
Artificial intelligence researcher Roger Schank said we think people are wise when they're able to do that. It's a skill you can learn. Storytelling is a leadership power tool.
Connect with Wally on Twitter at @WallyBock
Diana Peterson-More – The Platinum Rule of Communication
Many of us follow what I'll call the "Golden Rule" of communication, meaning, we communicate with others the way we want to be communicated with. Although a well-meaning and good-intentioned way to operate, it assumes the receiver will respond as we would. How about practicing the "Platinum Rule" of communication, or communicating with another the way she or he best receives information? "If you don't get them on the swings, get them on the merry-go-round!"
Connect with Diana on Twitter at @DianaPMAuthor 
In the post, Choose happiness, Lisa Kohn of Thoughtful Leaders Blog shares that the joy is in the journey, but if we're only focused on our destination or our goal, we risk missing so much. We need to make sure we're having growth and fun – we're choosing happiness – along the way.
Connect with Lisa on Twitter at @ThoughtfulLdrs
Brenda Yoho – Planting the Garden of Leadership
Gardens grow when we can provide the care and nutrients it needs. The same is required for those we serve as leaders. We need to work on this daily, just as we need to do with our gardens. We have to think about our staff as being in the hot sun all day long. Our gardens need water, and our staff needs H20 (Help, Hope, and Optimism).
Connect with Brenda on Twitter at @BrendaYoho
Jennifer V. Miller – Are You Over-Functioning in Your Leadership Role?
Caring too much—when it leads to lack of decision-making—is a form of leadership over-functioning. Here's how to avoid that pitfall.
Connect with Jennifer on Twitter at @JenniferVMiller
Sean Glaze – What is a Great Teammate, and WHY Should You Be One?
As a team leader or employee, the quality of your days and the quality of your results is likely impacted significatnly by the quality of your teammates. Being a great teammate is often seen as a virtue in the workplace, but did you know that there are actually unexpected benefits to being a stellar team player?
Connect with Sean on Twitter at @LeadYourTeam
Frank Sonnenberg – It Can Be Lonely to Stand Up for What's Right
It's easy to compromise your values, lower your standards, and look the other way, but the penalty of doing so is enormous. As Martin Luther King, Jr., said, "Our lives begin to end the day we become silent about things that matter."
Connect with Frank on Twitter at @FSonnenberg
Priscilla Archangel – How to Survive a Lion Attack at Work
Lions exist metaphorically in many spaces. Some people confront lions every day, at work. You may have been appointed to a senior role in your organization, holding a significant level of authority, but even for you, lions are waiting to attack. Learn strategies to survive, so that you can later thrive.
Connect with Priscilla on Twitter at @prisarchangel
Marcia Reynolds – Having the Courage to Stay Steady
What does it mean to stay steady? Do you have to fulfill every goal you set? This post gives the criteria needed to feel steady even when changes need to be made.
Connect with Marsha on Twitter at @marciareynolds
Jillian Miles Massey – Who's on First? Solving the Talent Development Puzzle
We don't often know who's on first or what's on second. Who's getting promoted, nearing retirement, or leaving the organization for another opportunity? When they leave, who's up next in the succession plan? How are we developing emerging talent? How are we keeping track of the pipeline for future hires? Whew!
Connect with Jillian on Twitter at @jillian_miles
Marcella Bremer – Can you change this story and culture?
Our global, societal, and organizational cultures help or hinder the transition to a healthy future. What's the narrative of our culture that caused the current global ecological, social, and governance issues? What to change?
Connect with Marcella on Twitter at @marcellabremer
Bill Treasurer – Work In Progress: Goal Setting to Improve as a Leader
You've got to get better. Everyone does. And this is especially true of those in a leadership role. The torch of self-improvement should burn bright and shouldn't flame out until very late in life. You are, and always will be, a work in progress.
Connect with Bill Twitter at @btreasurer 
Dan Oestreich – Defensiveness is the Problem of Our Time
"While it's often vital in a business context to value…stability, it may be even more valuable to know how and when to break old patterns. And that won't be possible unless we can forgo our own, often very private, personal defensiveness."
Connet with Dan on Twitter at @DanOestreich
Jennifer Nash – A Portrait of an Average Leader
Producing excellent work does not necessarily equate to excellent leadership. We are in need of more resources and training for leadership development. This piece highlights the lack of adequate training and what is needed to develop our leaders.
Connect with Maya at @DrJenniferNash
Art Petty – It Takes Leadership Courage to Kick Conventional Wisdom to the Curb
There are moments in our leadership careers when we face a choice to bow to conventional wisdom or stare it down and then kick it to the curb. Great leaders understand when to take a stand and make the unpopular choice.
Connect with Art on Twitter at @ArtPetty 
Michael Lee Stallard – Rekindling the Inner Flame in Others, and in Ourselves
When your inner flame begins to dim, positive connection with others can rekindle it. In this article, we explore how some well-timed human connection in the form of a career counselor helped former Campbell's Soup CEO Doug Conant through a difficult period in his career, share questions to ask to help you rediscover your motivation, and offer ideas on how you can help those you lead achieve their full potential.
Connect with Michael on Twitter at @michaelstallard
Henry Mukuti – How to Maintain Self-Discipline
Self-discipline is the ability to control one's thoughts, emotions, and behaviours to achieve specific goals or to maintain a particular standard of behaviour.  The benefits of being Self-discipline are immeasurable and can help you develop good habits, overcome procrastination, and improve your productivity.
Connect with Henry on Twitter at @HenryMukuti
Dana Theus – Mentee vs. Protégé: Is there a Difference?
When you have a mentor, regardless of how formal or informal the relationship is, you need to understand that you —the mentee—are doing most of the work in the relationship. You're also more likely to get the biggest benefit. More importantly, by doing the work to build the relationship and demonstrate growth to your mentor because of it, you are much more likely to achieve your goals.
Connect with Dana on Twitter at @DanaTheus
Jon Verbeck – What's the Score? Track Your Key Performance Indicators
What are your business's Key Performance Indicators (KPIs)? Are you even keeping score of your business's performance? You probably have some specific hopes and goals and are trying to move your results toward those targets, hopefully by following a plan. But without measuring performance results, you won't have the information you need to hit the bullseye.
Connect with John on Twitter at @jonverbeck1
S. Chris Edmonds – Build a Culture of Respect to End Office Drama
The great resignation isn't over. More than 15 million US workers voluntarily quit their jobs in October '22-January '23. CNBC reported that a new LinkedIn study found that 70% of Gen Z and millennials plan to quit their jobs in 2023. These younger generations won't tolerate old school, autocratic leaders or toxic work cultures.
Connect with Chris on Twitter at @schrisedmonds
Bev Kaye – Hybrid Works Need High-Bred Leaders!
Ever since our industry affixed the word "hybrid" to that old standby, "workforce," pundits have been touting the term's similarity to cars, plants and even cross-bred animals. But let's get real. Building a hybrid workplace is not as complicated as building a hybrid car and is far less dangerous than trying to cross a polar bear with a grizzly! Not that the effort will be easy. Why? Because the "hybrid workforce" will require "high-bred leadership."
Connet with Beverly on Twitter at @BeverlyLKaye
Sara Canaday – Leadership Expectations: Have Companies Crossed the Line?
The article discusses how the demands on leaders have increased exponentially in recent years, with expectations that include supporting employees' mental health, accommodating neurodiverse employees, and identifying trauma and crisis situations. While I agree that people with different vantage points need and deserve support, I'm not sure that our overstretched leaders should be the ones providing all of it? But, rather than just musings on "have we gone too far", I provide suggestions for how companies can meet the increasingly diverse needs of their employees while protecting the well-being (and sanity!) of their valuable leaders.
Connect with Sara on Twitter at @saracanaday
Laura Schroeder – Managers in the Middle: Bridging the Gap between Managers and HR
This short talk spotlights the unique challenges that put managers at higher risk of burnout, and offers strategies to build stronger lines of communication and support.
Connect with Laura on Twitter at @WorkGal
Julie Winkle Giulioni – From Upper Hand to Joining Hands: How Workplace Power Dynamics Are Changing
If you're of a certain age, you may remember a Seinfeld episode during which George struggles with dating power dynamics and laments, "I have no hand. No hand at all. She has the hand. How do I get the hand?" While it's funny to see the battle for the upper hand play out in a sitcom, it's not been so amusing to see the same dynamic in today's workplace.
Connect with Julie on Twitter at.@Julie_WG
Angela Hummel – Connecting the Dots
In making connections to the overall strategy and vision in an organization, leaders need to help employees connect the dots. Executives and senior leaders can make the connections more easily to the bigger picture, because they have all or most of details and the reasons behind it. Just as we helped our own children or grandchildren in the early stages of learning by using our own hand to guide them through a "connect the dots" exercise, we need to follow a similar exercise as organizational leaders.
Connect with Angie on Twitter at.@angelajhummel
David Grossman – 7 Employee Growth and Development Ideas for Leaders
If you want to boost productivity, morale, engagement and retention, create a culture that values employee growth and development. When employees are encouraged to have a growth mindset, set and achieve goals, and feel like their needs are being met, they're going to stay longer, contribute more, and help you achieve results and differentiate your employee experience.
Connect with David on Twitter at @ThoughtPartner
… and that is your April 2023 collection of Leadership Development gold!
Thank you to everyone who submitted articles for this month's leadership development carnival! If you would like to be added to the distribution list for submission calls, please fill out this form and we'll be happy to add you to the list.