Most people love the idea of earning extra money. Swagbucks is one solution for making money from your phone by completing short tasks in your free time.
While there are many ways to make extra money, Swagbucks is one of the most popular side hustle apps. This review will cover how the platform works and if it's worth your time.
What is Swagbucks?
Swagbucks is a loyalty rewards website and mobile app, also known as a "get-paid-to" (GPT) site. You can earn rewards points by completing short online tasks. Then, you redeem the points for gift cards and cash rewards.
Since its inception, they have distributed over $503 million in awards.
You must be at least 13 years old to join the platform, making it a legitimate online job for teens, and it's available in many countries around the world.
If you prefer earning cash rewards, the site can be one of the best ways to get free PayPal money.
There are many opportunities to make money with Swagbucks. They even start you out with a $10 bonus when you open an account and make a qualifying purchase through its portal.
How Does the App Work?
The app is free to use. All you need is an email address or Facebook account.
After creating a Swagbucks account, you will be able to browse the available activities to earn money. You can start earning points right away.
Once you earn the minimum number of points needed to cash out, you can redeem them for gift cards and cash rewards. You will receive your rewards within minutes.
Gift card rewards start at $1 (140 points). Your points can be worth a little more if you're willing to wait for gift cards worth $3 (300 points) or $5 (500 points).
Cash rewards via PayPal and Visa gift cards can be redeemed starting at $5 (500 points).
You can also earn free Google Play credits. The credits let you buy apps, games, movies, and more in the Google Play store at no cost.
Read our guide on other ways to earn free Google Play points to use at the Play store.
If you have a gamer in your home, you can even earn credits to use on Roblox. Read our guide on how to get free Robux to learn more.
How Much Money Can You Make on Swagbucks?
Swagbucks lets you make money online, but you won't get rich. Most tasks award between $0.50 and $5 each. You can earn several dollars per day.
If you use the platform regularly, you may earn between $30 and $50 per month.
Points are known as 'Swagbucks' or 'SB points' for short. The minimum payout for any action is 1 SB point. 100 SB points equal $1.
Payouts vary by activity. Higher values get as many as 4,000 SB points. Tasks that pay more generally require more time or a small purchase.
Fortunately, most tasks are free, take 20 minutes or less, and pay up to 250 SB. For example, you might earn 50 points for a ten-minute survey and 100 points for downloading an app.
You typically earn the specified number of points immediately after completing a task.
Some tasks that require spending, like online shopping, can take several weeks to receive credit.
If you have a tight schedule, Swagbucks is a fantastic choice to earn spending cash. Consult our guide on other ways to make money in one hour to identify other options.
Features
You can make money with Swagbucks in many ways, including:
Answering paid online surveys
Using their online shopping portal
Watching sponsored videos
Using their search engine
Testing new products
Playing online games
Completing various online tasks
Referring friends
You can also get paid to watch ads on your device with Swagbucks. While there are numerous ways to earn, they don't all provide the same payout.
Shopping Online

Swagbucks has an extensive cash back shopping portal with many retail partners. Most stores award roughly eight percent back.
The best stores award up to 40 percent cash back. Many of these higher payout stores are "specialty" stores.
The app works with several popular retailers, including:
Amazon
Best Buy
Kohl's
Old Navy
Target
Walmart
You can even earn points to use to get free pizza by shopping through the portal. If you already shop at any popular stores, it makes sense to get cash back or redeem coupon codes on your shopping.
It's also possible to earn SB points with in-store shopping deals. You can activate shopping offers and pay with a linked card.
Another way to save money on in-store purchases is by using digital coupons. You can add coupons to your shopping list and scan your store receipt with the app to receive credit.
Read our guide on the top coupon apps to use to save money on shopping.
While you have to spend money to earn rewards points, the Swagbucks shopping portal can be one of the easiest ways to consistently earn points.
Installing the browser extension or shopping through the app lets you quickly activate a shopping session. You must activate a shopping session to earn cash back.
Watching Videos
The platform offers many opportunities to make money watching videos.
Some of the video topics include:
Financial news
Lifestyle
News and politics
Sports
Most videos earn one or two points each. Even though this activity earns minimal points, it requires little effort.
When possible, look for sponsored videos that have higher payouts. Most sponsored videos are a 30-second commercial that you can watch and review.
Swagbucks is a legit way to get paid to watch videos online in your free time and earn a little extra money.
Buying Gift Cards
If you like to buy gift cards to give to friends and family, use Swagbucks. You might also buy gift cards for yourself and earn cash back.
Each gift card you purchase through the app earns cash back. Most gift card purchases earn up to six percent back.
Playing Games Online

You can earn points by playing online and mobile games.
Several game categories include:
Adventure
Card games
Casino and slots
Puzzle
Strategy
Many games are free. Keep in mind that you may need to reach a certain level to earn the rewards. The highest-paying offers award up to 5,500 SB points.
These paid tasks can be a fun way to test new mobile games.
It's important to note that some games require a purchase to play. The amount of points you earn depends on how much money you spend on in-game credits.
Swagbucks Search
You can use the Swagbucks search feature on your desktop or your mobile device to make money browsing the web.
Instead of using Google to look up an answer you need, the Swagbucks search engine can be a nice alternative. It uses the Yahoo search engine.
Unfortunately, you won't earn points for each search. However, when you earn points, you can earn up to five points per search term.
You will receive a notification when you get points for searching online through Swagbucks.
Paid Surveys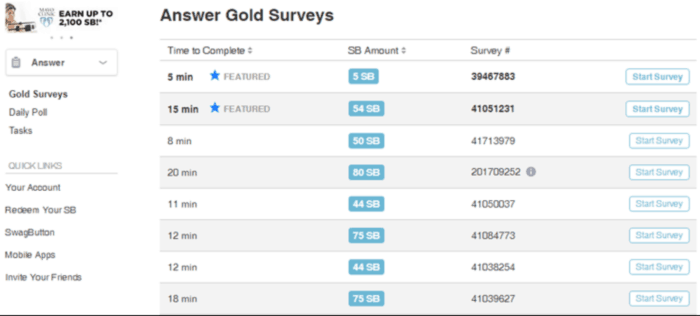 Another popular way to earn cash or gift cards is by taking surveys online. Swagbucks is one of the best surveys for money sites and lets you answer multiple surveys each day.
Most surveys require up to 20 minutes and award a maximum of 100 points.
Each survey has an estimated time frame it will take you to complete the survey and how many SB points you will earn. Having this information up front is nice so you can decide if completing the survey is worth your time.
However, you won't know the survey topic until you attempt the survey.
After asking a few background and personal questions to see if you are the best fit for the survey, you will receive the survey-specific questions.
If you don't pass the initial screening process, you earn one point for your effort.
Besides the cash back shopping portal, surveys can be the quickest way to earn points each day.
Swagbucks Discover
You can also get paid to test products or services. The "Swagbucks Discover" section lists free and paid offers.
Many offers are free and do not require a purchase. You might be able to download an app and earn between 100 and 750 points.
Other offers require a small purchase or cancellation before the free trial period ends. These offers award more points.
Some of the paid offers can include signing up for a meal delivery kit or trying an investing app. It's possible to earn up to 6,000 points with the best offers.
For any offer, make sure you read the terms and conditions before enrolling. You will see the necessary steps to earn points and if a purchase is necessary.
Swag Code
A fun way to earn cash is by entering a Swag Code. Each code is a random set of numbers and letters that can be found in various places online and within the app.
Swagbucks sends a push notification in its app when a code is active. Browser extension users see a notification as well.
All codes are case sensitive and will not have spaces. The number of SB points you get for entering the code varies. Codes are time-sensitive and should be used immediately to earn points.
Once you find a code, you can enter it on the mobile app or the website.
Referring Friends
Another effortless way to maximize the Swagbucks rewards program is by referring friends.
You and your friend can each earn 300 SB points ($3) when your friend earns 300 points in the first 30 days. That's enough points for a free gift card.
In addition to this one-time bonus, you earn ten percent of all the lifetime points your referrals earn.
Is Swagbucks Worth It?
Swagbucks is worth it if you enjoy short tasks that let you get free money fast. If you like taking surveys, playing games, and shopping online, the service can help you earn cash.
Even if you don't use it for surveys or the other get-paid-to tasks, its online shopping portal and in-store cash back offers are some of the best out there.
The low redemption minimums for cash and gift cards also make Swagbucks one of the best side hustle apps. Similar apps may require a $10 or even a $50 rewards balance before you can request payment.
You may decide to avoid the platform if you have difficulty qualifying for the online surveys or you don't use their shopping portal, Discover offers, or mobile games.
Is Swagbucks Legit?
Yes, Swagbucks is a real way to make money online or redeem points for gift cards. Like other survey sites, it's free to join and most activities don't require a purchase.
The company has a Trustpilot score of 4.3 out of 5 with many positive reviews.
Swagbucks is also one of the most popular get-paid-to apps with many online proof of payment verifications from members.
Read our guide on other top apps that pay you if you want to supplement your earnings from the platform.
Pros and Cons
There's a lot of information in this review of Swagbucks. Let's quickly recap the benefits and downsides of the app.
Pros
Variety of tasks that make money
Can sign up for free as long as you're at least 13 years old
Cash and gift card redemption options
Amazon gift card offers start at $1 (140 points)
Earn bonus points by referring friends
Cons
Some tasks require you to spend money to earn points
Online surveys can be difficult to qualify for
Tasks only earn small amounts of money
Swagbucks is one of the best micro task sites to use if you want to earn extra money because it offers multiple ways to make money.
Alternatives to Swagbucks
It can be challenging to choose a small task site to utilize in your free time. Here are the top apps like Swagbucks to make money on the side:
Survey Junkie: Take multiple, daily online surveys for PayPal and gift cards that you can redeem with a $10 balance.
Pinecone Research: Take paid surveys and complete product tests at home.
Mistplay: Play mobile games to unlock cash and gift card rewards.
There are plenty of options for survey and short-task sites. Pick the one that works best for you to minimize effort and maximize earnings.
Swagbucks Review

Bonus




Ease of Use




Flexibility




Earning Potential




Support



Swagbucks Review
Swagbucks is a good way to make a little extra money in your free time, but you won't earn a lot.
Pros
✔️ $10 bonus
✔️ Easy to use
✔️ Multiple ways to earn
✔️ Free to join
✔️ Low redemption minimum
Cons
❌ Some tasks require a purchase
❌ Surveys can be difficult to qualify for
❌ You won't earn a lot of money
Summary
Before considering any money-making opportunity, it's important to evaluate if it's worth the effort. The Swagbucks app gives you multiple ways to make money in your free time by doing online tasks that you enjoy.
You won't replace your full-time job, but Swagbucks can help you achieve your money goals. You can also use it to save money each time you shop.
What cashback apps or services do you use? 
Related