This post may contain affiliate links.
Romantic Getaways in Ontario
From luxury lodges to rustic retreats, you can find some terrific romantic getaways in Ontario.
To help you with your trip planning, here are the most romantic resorts and destinations in the province.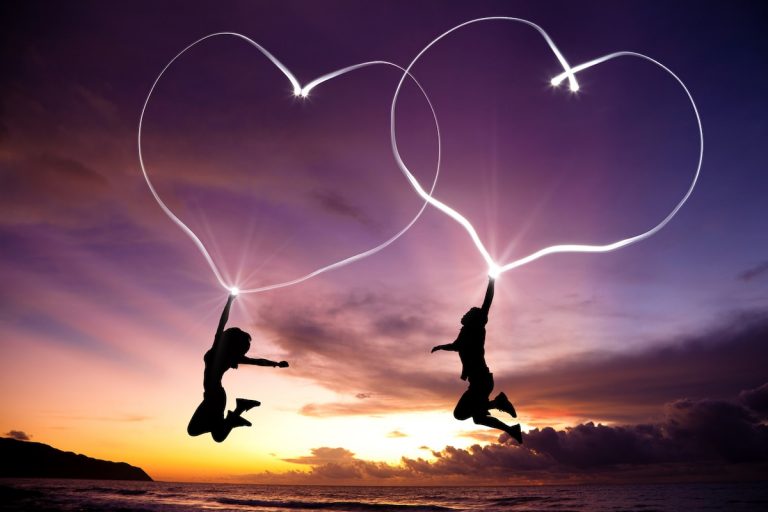 The Best Romantic Getaways
After 15 years together, my husband Mark and I have done a lot of weekend trips in Ontario. It's good for us. A quick break is a chance to relax and renew.
We live in Ontario so we might be biased, but we think the province has a lot to offer.
There are clear blue lakes, forests so thick they're practically enchanted, cozy resorts, year-round outdoor activities, historic hotels and cosmopolitan urban centres.
In other words, there are a lot of romantic places to go in Ontario.
Why a Couples Vacation Can Boost Your Relationship
Exploring new destinations with your partner means you're sharing adventures. This promotes bonding. And revisiting old favourites reminds you of those adventures and this brings you together all over again.
Of course it also reminds you of all the fights you had on your various local trips, like the time your husband dumped you in the wine town of Jordan and went back to the city for some urgent (cue eye rolling here) reason.
Never mind. It's just another shared story that will never die … especially as I published a travel article about it in the Toronto Star. Payback, honey! Kisses!
Why Choose a Resort in Ontario?
No question, there are a lot of dreamy destinations around the world. From romantic resorts in the USA and couples' getaways in Wisconsin to drool-worthy cruises down the Danube, there is no shortage of places to go.
However, if you live in Canada or even the USA, it's easier to travel closer to home. Not to mention cheaper. And road tripping means no flight delays. Hurray.
What's the Most Famous Honeymoon Destination in Canada?
A Niagara Falls Romantic Getaway
A perennial favourite destination for lovers – even old married ones – is the spectacular yet absurdly touristy destination of Niagara Falls.
An international favourite, it's one of the most famous places to visit in Canada.
Often called the honeymoon capital of the world, there's no question Niagara Falls is over developed (Clifton Hill, eeeek!), but the Falls are the Falls and they are a wonder of nature.
The good news is that you can tailor your Niagara Falls trip to suit your idea of romance.
If you want excitement, hit the casino. Or escape the crowds at nature spots like the Niagara Glen.
Aim for a hotel with a view of the Falls such as the Marriott Fallsview Resort, or, to get super romantic, try one of the historic B&Bs like the Redwood Bed and Breakfast.
Food and Wine Weekends
A Niagara-on-the-Lake Escape
Not far from Niagara Falls is its sophisticated sister, Niagara-on-the-Lake.
Visit local wineries and stay in a spa hotel like the loveable and old-fashioned Prince of Wales Hotel or the more modern Pillar & Post Inn & Spa. Maybe a couples massage?
Prince Edward County
A hot spot is Prince Edward County, where Sandbanks Provincial Park makes a great day trip destination, from girls weekend getaways to dreamy bonding vacays with your partner.
A host of wineries are ready to welcome you, and the very on-trend Drake Devonshire Hotel in Wellington offers perks like free bikes and a private beach area.
This area is well known for its vineyards. (I'm partial to Norman Hardie Winery and Sandbanks Estate Winery.)
Langdon Hall – A Top Pick
Just 90 minutes from Toronto, the white-pillared Langdon Hall Country House & Spa has heritage architecture dating back to 1898 and is one of the best Ontario resorts for couples.
Langdon Hall was built as the summer home for Eugene Langdon Wilks, a wealthy New Yorker whose mother was an Astor. Apparently a grand home in New York and a chateau in the Loire Valley wasn't enough.
Today it's one of the best resorts in Ontario for couples. Surrounded by lush forest near Cambridge, Ontario, this luxury hotel is one of only 14 Relais & Châteaux properties in Canada.
It has a well-deserved reputation as a culinary hot spot, and is definitely high on the 'couples getaway Ontario' scale.
Best Destination for Culture
Stratford
The pretty town of Stratford sits on the banks of the Avon River – how Shakespeare can you get? No wonder Stratford is known for the Stratford Festival.
A showcase of top theatre productions, the season runs from April to October each year.
Stratford's other claim to fame is that Justin Bieber grew up here and has been spotted around town with his main squeeze, Hailey.
(Mind you, he was also known to head here with former flame Selena Gomez, but love takes many paths.)
Create your own Ontario romantic weekend in Stratford with a stay at the luxurious Bruce Hotel.
Combine it with a meal at the French-styled Bijou Restaurant that features farm-to-table cuisine, and opt for a stroll along the scenic Avon River. And of course, see a play!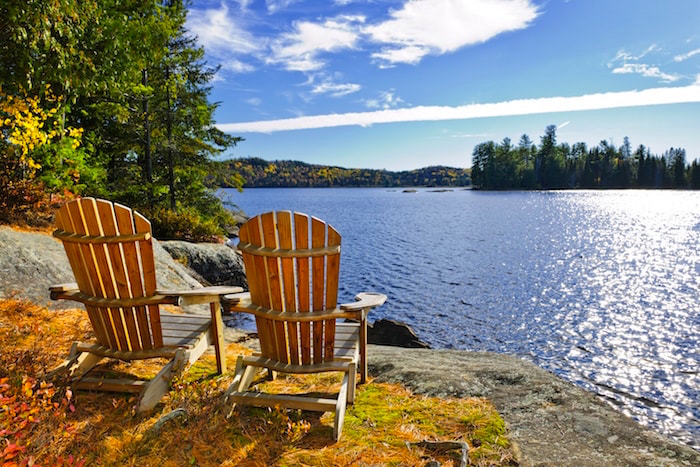 Lakeside Resorts
Marriott Rosseau Resort & Spa – Luxury
It's hard to beat swanky Muskoka for a lakeside holiday.
Try the elegant Marriott Rosseau Resort & Spa on Lake Joseph if you want to rub shoulders with big-bucks cottage-owning celebrities (and when I say cottage I mean mega mansions).
Make it a true couples weekend by spending time in the Marriott's extensive spa.
Deerhurst (Really?)
Some may disagree, but I think you can have a lovely Muskoka getaway at Deerhurst, a sprawling resort on Peninsula Lake with lots of year-round amenities.
This is one resort my husband and I don't agree on. He finds it too busy while I find it fun.
Deerhurst attracts a lot of families, but it's large enough to find your own adult comfort zone.
🌿 Travel Tip: Because of the resort's large size, it often has availability when other Muskoka resorts are full.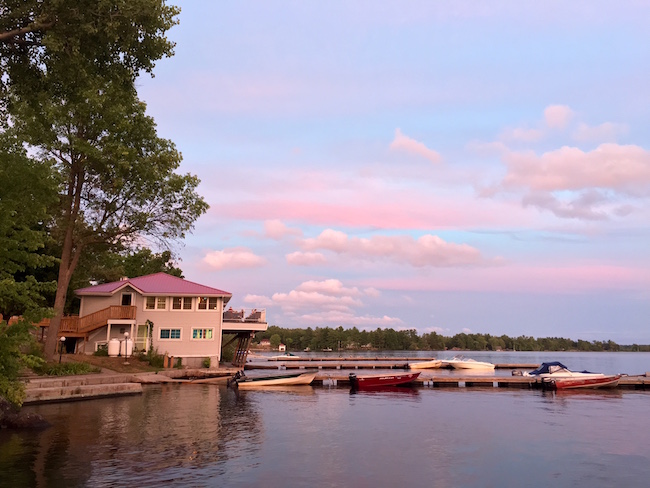 Viamede Resort in the Kawarthas – Rustic and Quirky
The Kawarthas is a more affordable destination than Muskoka and an increasingly popular option for a cottage country couples trip.
Northeast of Toronto, this is a laid back outdoor destination where boating is big and you can swim, kayak and hike to your heart's content.
Wondering where to stay in the Kawarthas? At Viamede Resort there is a variety of accommodation.
Our cabin was basic, and the resort vibe a bit off the wall, but the food is organic and gourmet.
A Resort Near Toronto
Hockley Valley Resort
For an upscale modern resort with fabulous nearby hiking trails, not to mention ski runs in the winter, consider Hockley Valley Resort, one of the nearest getaways for couples from Toronto.
Combine it with a trip to nearby Adamo Estate Winery for a wine tasting and small plate gourmet bites.
Ontario Resorts For Couples Only
Couples Resort Algonquin
What could be more appropriate for an Ontario couples retreat than a lodge named the Couples Resort?
Sitting at the edge of Galeairy Lake in the rugged wilderness region of Algonquin Park, the Couples Resort Algonquin has a 5-star rating and is designed with couples in mind.
While I haven't personally been to this adults only resort in Ontario, it's high on my list of weekend escapes for two.
Hopefully it's on my husband's, too, for the next time my birthday rolls around and he starts thinking about cozy cottages with private hot tubs in Ontario.
Sir Sam's Couples Retreat Ontario
Sir Sam's Inn & Spa is another property tailored to couples and they have various romantic getaway packages.
This luxury adults-only resort has a lakeside location on Eagle Lake in Haliburton, and accommodations come complete with wood-burning fireplaces and spa tubs.
One of the big draws of this Ontario couples resort is the spa with its extensive water circuit – ideal for lounging after a day enjoying the outdoors.
Best Outdoor Getaways
Blue Mountain – A Top Pick
For years, Blue Mountain Resort on Southern Georgian Bay was my top choice for a romantic weekend in Ontario. Then one summer Mark and I came up and I wouldn't leave and now we own a place here.
So if you ask me what the best romantic getaway for couples in Ontario is, you can pretty much guess my answer.
What makes Blue Mountain so special? It's a prime destination for outdoor lovers. There are hiking trails, cycling trails, beaches and boating. (We bought kayaks.)
It's also a top winter vacation spot and is the largest ski resort in Ontario.
Blue Mountain Resort itself is fun and festive, like a little alpine village with restaurants, shops, chalet-style hotels, and year-round activities and entertainment.
There are loads of things to do in Blue Mountains, from hiking the Bruce Trail to strolling the oh-so-cute main streets of nearby Collingwood and Thornbury.
Where is the most romantic place to stay?
Blue Mountain's Westin Trillium Hotel. Why? It has great amenities like a lovely outdoor pool and hot tub area, as well as the fanciest restaurant at the Village, the Oliver & Bonacini Café Grill.
Thornbury
If you're looking for something a little more hip in the same region of Southern Georgian Bay, the retro cool Penny's Motel in Thornbury is the newest addition to the romantic Ontario getaway scene.
Mark and I stayed here back when it was a ramshackle motel, but it's undergone a renaissance since then, and has joined the we're-so-cool-so-follow-our-account-on-Instagram type of nouveau chic destination.
For a fun thing to do in the evening, drop by their fireside pit and patio for an après hours drink.
Another romantic way to spend time together near Blue Mountain? Head to the steamy pools and saunas at Scandinave Spa.
Killarney Mountain Lodge – A Northern Escape
My recent stay at Killarney Mountain Lodge was an eye opener. Located high up at the north end of magnificent Georgian Bay, a land of granite and pine, this is a 3-star resort with all the amenities.
You can spend your day kayaking, canoeing, cycling, hiking, boating or fishing. With its proximity to Killarney Provincial Park, you'll get all the scenic hikes you need.
When your day is done, relax with a sauna, a swim in the heated outdoor pool, then have a glass of wine in their retro glam octagonal Carousel Lounge and watch the day fade away.
Cruise the Rideau Canal on Le Boat
Talk about unique Ontario getaways for couples. A self-drive boating vacation on the Rideau Canal means you'll have all the togetherness you've been craving, and a chance to check out a few off-the-path Ontario port towns.
Le Boat, a charter company better known in Europe, rents out cruisers – sort of halfway between a yacht and a houseboat – from their base in Smiths Falls.
We did a two-couple trip and, once the learning curve of driving and navigating was over (it wasn't always easy), we found the days of exploration and discovery were irresistible.
Affordable Getaways for Couples
You don't need to spend tons of cash to enjoy a sunset and some serious hand holding on a weekend away. There are plenty of budget couples' vacations you can do.
Parry Sound
One of our first weekend trips as a couple was north of Toronto up in Parry Sound, where we walked along Georgian Bay and stayed at the basic Comfort Inn.
And hey, you can always visit the Bobby Orr Hall of Fame.
Awenda Provincial Park
Another idea for cheap getaways for couples in Ontario, and one that Mark and I both love, is a weekend – or even a day trip – to Awenda Provincial Park.
🌿 Travel Tip: Head to one of the farthest beaches to escape the crowds. You might want to use your bikes to get there from the parking lot.
You won't find luxury hotels in the area. Mark and I usually grab a cheap room (hello, Shamrock Motel) in Penetanguishene but you can also camp.
Urban Escapes
Romantic Getaways Toronto
For sophistication in Toronto, it's hard to beat a glam 5-star like the Shangri-La Hotel – especially if you want to add in some relaxing spa time. Or is a Gen Y boutique hotspot like the Bisha more your style?
For the newest of the new, check out one of the oldest luxury hotels in Toronto. Yes, you read that right. What's old is new.
The revamped Park Hyatt Toronto has reopened after a megabucks renovation that has put it back in the spotlight.
Their rooftop bar is a Toronto classic, where under-the-radar celebs are known to stop by.
What's best is that the Park Hyatt in Yorkville, the most romantic area in Toronto with its Victorian houses (what's left of them), gelato stops, superb restaurants (I heart Alobar at 162 Cumberland) and luxe designer stores.
Whether it's haute cuisine, world-class museums or a Leafs hockey game you're after, you won't run out of romantic Toronto things to do.
Togetherness in Ottawa
Take a cruise on the Rideau Canal (or skate on it in the winter), eat your way through ByWard Market, visit Parliament Hill, and spend a night at the fairytale Fairmont Château Laurier in Ottawa.
Smaller Cities for Unique Weekend Breaks
Toronto and Ontario have a cosmopolitan appeal, but don't overlook smaller centres.
Cities like London, Ontario and Hamilton, with their burgeoning chef-driven restaurant culture and abundant green space, have been stealing some couples getaway thunder too.
Ontario Escapes Summary
Whether you want blissful nature, tranquil spa time, or in-the-moment events and cuisine, when it comes to romantic getaways, Ontario has it all. Here's a quick recap of the best places in Ontario for couples.
16 Top Romantic Hotels in Ontario
Niagara Falls Marriott Fallsview Resort
Prince of Wales Hotel in Niagara-on-the-Lake
Drake Devonshire Hotel in Prince Edward County
Langdon Hall in Cambridge
Bruce Hotel in Stratford
JW Marriott The Rosseau Muskoka Resort & Spa on Lake Joseph
Deerhurst Resort on Peninsula Lake in Muskoka
Viamede Resort in the Kawarthas
Langdon Hall in Cambridge
Hockley Valley Resort in Mono
Couples Resort at Algonquin Park
Sir Sam's Inn & Spa in the Haliburton Highlands
The Westin Trillium House, Blue Mountain
Penny's Motel in Thornbury
Killarney Mountain Lodge
Shangri-La Toronto
Park Hyatt Toronto
Why is Niagara Falls called the Honeymoon Capital of the World?
Niagara Falls became known as the Honeymoon Capital of the World after Jerome Bonaparte, Napoleon's younger brother, travelled here with his new wife Elizabeth in 1804. PS: It didn't work out. She left him.
Is traveling good for a relationship?
Traveling with your partner is a good idea for many reasons. Unique experiences create shared memories, which promotes a sense of being a team. Even the tougher moments of travel like getting lost and losing luggage show that you can work together to overcome problems. Travel can also be stressful, so don't expect it to be all romantic dinners and beautiful sunsets. There will be things you need to work through.