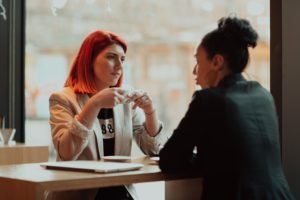 Informational interviewing can be an amazingly effective tool to help you find a job. Of course, you need to do it right!
In a previous post I discussed why it's a great thing to do: because it can lead to opportunities and offers as well relationships and information. You may also want to read my post about the three very different types of informational interviews.
In this post I'll tell you how to conduct these meetings in a way that gets results–and how to get informational interviews in the first place.
How to get informational interviews:
Ask people you know for potential contacts in the field or company you're interested in.
Mention a common interest or acquaintance in the subject line of the email, or first thing in the phone conversation, to get their attention.
Ask for a specific, short amount of time like 20 minutes. (If all goes well, maybe you can spend more time with them on some other occasion.)
You may be more likely to get a "yes" if you ask for a "career research conversation" or a "conversation about careers in your field" rather than an "informational interview." People think of a "conversation" as easy and enjoyable, while an "interview" is more like work.
Set up an in-person meeting if possible, in the person's office or a coffee shop near their location. A teleconference (Skype, Google Hangouts, etc.) should be your second choice, a phone meeting your third.
Tips to make the most of an informational interview / career research conversation:
You have probably heard some of these tips before, but not all of them – and every one of them is important.
Build trust and rapport first and foremost. Be on time. Aim to make the meeting comfortable. Take a genuine interest in the other person. Follow their cues: Do they seem to want to get straight down to business, or are they chatty and casual? Rapport is more important than covering a lot of ground. If the relationship gets off to a great start, information can come later.
Have a (short) list of questions. Mention right up front how many questions you have; this will help you manage the time. One of the most important questions is "What other resources should I look into?" Above all, you're hoping for introductions – to hiring managers ultimately, other insiders at your target companies (see #3 below), or anyone who might have information that gets you closer to these. Use good judgment before asking for this favor. Warm up with questions about the person you're talking to – his job, company, career and interests – and your target companies.
Offer a brief networking bio or marketing plan / target companies list. Avoid giving them a resume, because this is neither a job interview nor a resume critiquing session. If a resume is requested you're better off sending it after the meeting, when you know more about possible opportunities and can target it appropriately.
Take a few notes, but don't bury yourself in your notepad. Immediately after the meeting, take a few minutes to complete your notes at a coffee shop or on the train. (This is different from taking notes in a job interview.)
Mind the time and excuse yourself at the time agreed upon. Don't leave it up to them to tell you that they need to get back to the rest of their busy day.
Promise to update them within a certain amount of time (e.g., a week) on your experiences in following up on any advice or leads they've given you. Obligate yourself to follow up. That way, when you get back in touch you're not being a pest, you're keeping a promise. (Thanks to Steve Dalton and The 2-Hour Job Search for this tip.)
Mail a thank-you card as soon immediately after the meeting. You might be surprised how much this is appreciated. An attractive card may sit on the person's desk for days, reminding them of you and the conversation.
Update them later as promised. Provide a brief progress report on the actions you took or people you contacted. This demonstrates follow-through, helps your contact feel the satisfaction of making a difference, and can lead to valuable new tips and information.
Keep in touch with a quick update every few weeks until you find your new job. Otherwise, their promise that "I'll keep my eyes open for you" is meaningless because they'll forget about you. And how will they know you're still looking if you don't tell them? Use a system to schedule follow-ups – Outlook tasks, Jibberjobber, your CRM, or a tickler file. Invite the person to connect on LinkedIn and possibly other social media if they seem open to it.
When you land your new job, thank this person again for helping you in your search, and then stay in touch. For example, you might thank them again when you get to your one-year job anniversary.
Informational interviews are about forming relationships, not just gaining information.
Many or most of the pointers above will help you turn informational interviews into relationships. A quick piece of information or a one-time introduction can be valuable, but a relationship is worth much more. By "relationship," I don't necessarily mean being close, but I do mean two people being friendly and becoming ongoing resources for each other. Don't be a stranger!  (This article was originally published in 2014 and has been updated.)
Download Our

Free

Report



Get my concise, FREE report for step-by-step guidance to STAND OUT & WIN in interviews!