During COVID, some companies that instituted remote work were almost giddy about the increase in employee productivity. Workers themselves were certainly convinced of this.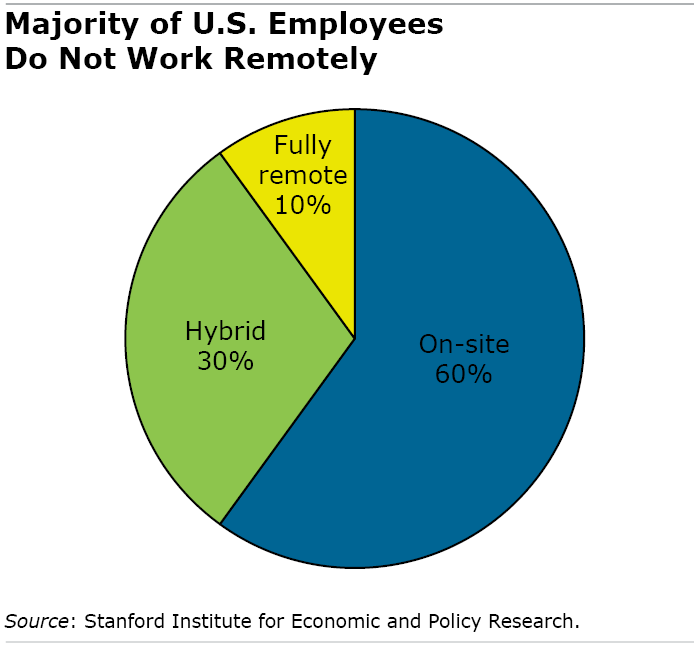 But that view is being undermined by some high-quality research that benefits from having more data and perspective on this pandemic-era issue.
U.S. economists studying productivity in India's high-tech sector, and specifically the employees who enter data into computer software, found that people who work at home were 18 percent less productive than in-office workers. Productivity was measured in terms of errors and the volume of data entered, taking into account each individual's task difficulty and typing speed.
One interesting aspect of this study may be a clue to the reason for sagging productivity. The least productive day for the data-entry workers at home was Monday, because they were required to come to the office to upload the data they'd entered the previous week and to get their next assignment. Back at home, their hours increased as the work week progressed and spilled into the weekend. The largest blocks of work occurred on Saturday and Sunday – apparently in preparation for going into the office on Monday.
The remote workers also started around 10 a.m. and would spread their work throughout the day and as late as 10 p.m. The in-office workers, who were more productive, worked steadily from 9 a.m. to 4 p.m. on Monday through Friday – and no weekends.
Some research indicates that distractions at home detract from productivity. The isolation of working remotely also seems to sap productivity for a work-related reason: workers have to spend more time communicating and coordinating with the coworkers they'd naturally bump into at the office.
"In-person working may thus allow for richer and faster communication, which can be important for time-sensitive activities," concludes a review by experienced researchers in the field who summarized productivity studies on a variety of employers in the United States, China, India, and the United Kingdom.
However, they said, productivity also depends on how many work hours are spent at home. The 10 percent of U.S. employees who are fully remote are 10 percent to 20 percent less productive than office workers, according to the review of studies. This is in line with the productivity estimates for the data-entry workers in India.
Another 30 percent of U.S. workers have hybrid jobs. Going into the office two or three days a week and spending the other days at home has no apparent impact on productivity and, in one study, hybrid workers were slightly more productive.
COVID's impact on the work world has been dramatic – so dramatic that investors worry about a commercial real estate collapse if downtown office buildings don't fill up again. But the arguments for fully remote work seem to be losing steam as the evidence about lost productivity piles up.
Squared Away writer Kim Blanton invites you to follow us on Twitter @SquaredAwayBC. To stay current on our blog, please join our free email list. You'll receive just one email each week – with links to the two new posts for that week – when you sign up here. This blog is supported by the Center for Retirement Research at Boston College.