Cable TV is a sizable expense for many families. The average monthly cable bill is $200 per month. Live TV streaming services help people slash their bills without missing their favorite shows and live sports.
Hulu with Live TV is one of the top cable replacement options. However, recent price increases mean it may no longer be the value people want.
This review examines whether or not it's a good subscription streaming service for you.
What is Hulu Live?
Hulu with Live TV is one of the most popular cable alternatives on the market. The on-demand service launched as a joint business between ABC and Fox to offer their programming to a broader audience.
They added Hulu plus Live TV in 2017. By the end of 2022, the service boasted over 47 million subscribers.
For $76.99 per month, the provider offers access to dozens of channels and its entire on-demand library of television shows plus Disney+ and ESPN+.
Disney now owns the live streaming service. It's one of the top YouTube TV competitors, a service it matches in a lot of areas.
Channel Lineup
Cost and channel offerings are often the two most important factors in choosing a streaming platform. The Hulu Live channels do not disappoint.
You get over 85 popular networks with live TV shows and Hulu live sports.
Here is the list of channels you get with the platform.
You'll notice several things as you look at the Hulu Live TV channel list, including:
Local networks and major news channels
A full suite of sports offerings, including the ESPN family of channels, Fox Sports 1 and 2 (FS1 and FS2), BTN, NBC Golf, and more
Dozens of lifestyle and entertainment networks
If a channel isn't available, you can likely find content in the on-demand area of the platform
YouTube TV has a few more channels, making it a worthy competitor despite being $3 more expensive.
How Much is Hulu Live?
A subscription to the video streaming service starts at $76.99 per month. This puts it on the higher end of the spectrum with alternatives like YouTube TV and fuboTV.
Both competitors offer more channels, while the latter stands out for sports.
*Related: Can't decide if YouTube TV or Hulu Live is better? Read our review of YouTube TV vs. Hulu Live to see how the two services stack up.
This price gets you access to both live TV and the on-demand library offered by the service. That allows you to watch popular originals like The Handmaid's Tale, Letterkenny, Kindred, Only Murders in the Building, The Dropout, and How I Met Your Father.
The streaming service offers ways to enhance your subscription, such as an ad-free version.
If you're a fan of ESPN+ or Disney+, you now get it in the Basic plan for no additional monthly charge.
The live streaming app isn't the cheapest, but there are ways to save money. For example, you can switch between the two Hulu packages whenever you wish.
There is no contract, so you can make changes at any time.
Read our ESPN+ review to learn more about that platform.
Read our Disney+ review to learn more about that platform.
Add-Ons
Like any cable alternative, Hulu Live has add-ons you can purchase to further enhance your viewing experience. Here are the available add-ons.
Entertainment Add-on ($7.99 per month): American Heroes Channel, BET Her, CNBC World, Cooking Channel, Crime + Investigation, Destination America, Discovery Family, Discovery Life, Great American Country Family, Military History Channel, NickToons, MTV2, MTV Classic, Science, and TeenNick.
Espanol Add-on ($4.99 per month): CNN en Espanol, Discovery en Espanol, Discovery Familia, ESPN Desportes, Fox Deportes, History Channel en Espanol, and NBC Universo.
Sports Add-on ($9.99 per month): NFL Red Zone, TVG, TVG2, MAVTV, Outdoor Channel, and Sportsman Channel. If you want to watch the NFL online, this add-on is a great choice to monitor your favorite team.
Max: $15.99 per month – you can also get an ad-supported option as a standalone service for $9.99 a month.
Cinemax: $9.99 per month
Showtime: $10.99 per month
Starz: $8.99 per month
Depending on what you add to your Hulu subscription, it's easy to spend $100 or more per month. While still cheaper than cable, it does sacrifice a significant amount of your savings from cutting the cord.
Look and Feel
The user interface is an important part of any streaming platform. Hulu Live has made some strides in improving its platform over the years.
When you launch the platform, you see a simple home page with cover art for a show the service is promoting. This gives it a less busy look than before and makes it easier to navigate.
The top of the interface has four main tabs, including Home, Live TV, My Stuff, and Browse. If you want to access your DVR recordings and favorites, you simply click on My Stuff to get to it.
We've tested all of the major streaming services, and Hulu has a relatively user-friendly interface.
The Hulu TV guide was once the worst in the space. Fortunately, the provider gave it a significant upgrade a couple of years ago. It now has an easier, smoother feel.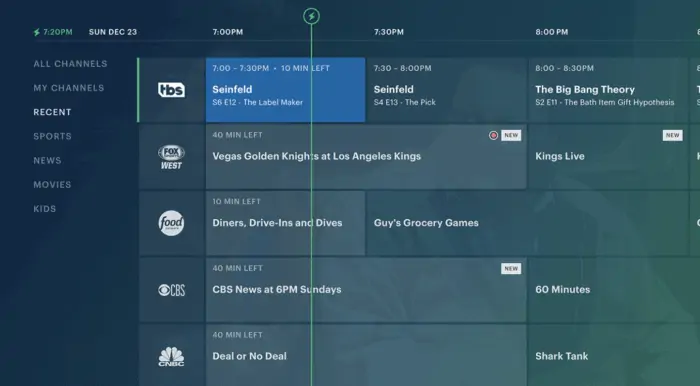 The guide has show data for 14 days, allowing you to easily see what's airing over the next two weeks. When you see a show or live sporting event you want to record, simply click the show to access the record feature.
If a user-friendly interface is important to you, Hulu Live is one of the best cable replacement options.
Features
The live TV streaming service space is growing increasingly crowded. Added features are where players attract more customers.
Here are a few of the features that set Hulu with Live TV apart from the competition.
Cloud DVR
Many people stay with cable or satellite because of the DVR capabilities. Hulu recently upgraded to an unlimited capacity cloud DVR.
This took effect on April 13, 2022 and does not include a price increase. The Hulu Live DVR previously only offered 50 hours of recording capacity.
If you wanted to upgrade to 200 total hours, that came with an added $9.99 fee. It also didn't allow you to fast-forward through all commercials.
With the upgrade you can now fast-forward through commercials and recordings are kept for nine months. This puts the service on par with YouTube TV and Philo.
Read our review of Philo TV if you want to learn more about the discount provider.
The DVR offers a helpful categorizing feature. It separates recordings into five categories. These include TV Shows, Movies, Kids, Sports, and Teams.
Additionally, there's no limit on simultaneous recordings and you can stream recordings on any compatible devices.
Simultaneous Streams
You can watch on two screens at once with Hulu Live. This puts them in the middle of the pack with other services as Sling Orange offers one and YouTube TV provides three.
Read our Sling TV vs. Hulu Live review to learn more about how the two services compare.
If two simultaneous streams aren't sufficient, you can add the unlimited screens feature for $9.99 per month. This allows you to watch on unlimited screens at home or three screens when you're on the go.
Playback
Video and audio quality is important for many cord-cutters. Hulu Live offers 4K video for original content and most movies.
Many TV stations broadcast content at 720p, while most on-demand movies hit 1080p. This is true whether you get content from the on-demand library or live broadcasts.
We have fairly fast internet at our house and have rarely been disappointed in playback.
Dolby Digital Plus 5.1 and 2.0 stereo audio are available with supported devices.
Users and Profiles
Creating multiple user profiles is important for many who cut the cord on cable. Hulu with Live TV lets subscribers have individual profiles for up to six users.
Profiles are customizable to your specific interests and preferences.
You can take it even further by allowing profiles to restrict viewing to specific content and block certain genres of programming.
Parental Controls
There are no specific parental controls, but you can use the profiles feature to create a similar approach. The aforementioned profile features are available.
They also allow you to limit searches to only return viewing choices that meet the requirements you set.
However, children can get into their parent's account to find content.
Supported Devices
Like other platforms, it is possible to watch Hulu Live with most streaming devices. The cable alternative works with many major platforms, including:
Amazon Fire TV or Stick (all models)
Android devices (5.0 and later)
AppleTV 4th and 5th generation (4K)
iPhones and iPads (iOS 10 and later)
Chromecast devices
Web browsers (Chrome, Firefox, and Safari)
Roku Streaming Stick (model 3600X and later)
Samsung Smart TVs
Vizio Smartcast TVs
Xbox consoles
Nvidia Shield
Nintendo Switch
Xiaomi Mi Box
If your device has a screen, it will likely work with the platform.
Pros and Cons
There's a lot to consider when choosing a live streaming service. Here are some things to keep in mind when looking at Hulu Live.
Pros:
Lots of channels (seen by some as the best channel lineup in the space)
Seamless interface
Tons of original content
Easy to use 14-day TV guide
Reliable streaming
Works with virtually any streaming device
Some 4K content
Can have up to six profiles per account
Cons:
On the expensive end of the tier
Can only watch on two screens unless you upgrade
Add-ons can get pricey
There is a lot to like about the service. It's certainly on the expensive end, but it competes well against other players at that price.
Is Hulu Live TV different from Hulu?
Yes, the two services are different. The live streaming option gives access to live shows plus the expansive library of on-demand content plus original shows.
If you don't choose the live service, you only receive access to on-demand and original content.
The base price for the on-demand option is $7.99 a month and $76.99 for the live option. You can upgrade or downgrade whenever you want since there is no contract.
Hulu on-demand is one of the best alternatives to Netflix for your content needs if you don't want live TV.
You can read our comparison of Hulu Live vs. Hulu to learn more about how they differ.
Is Hulu Live TV Worth it?
There is a lot to like about Hulu plus Live TV, especially with its unlimited DVR. The service is an excellent choice for live games, which is important to many cord-cutters.
Furthermore, it has dozens of well-known entertainment, lifestyle, and news networks.
The addition of Disney+ and ESPN+ to the plan make it even stronger when compared to YouTube TV, which is our top-rated service.
The channel packages are relatively similar. Hulu is missing AMC and Hallmark, while YouTube TV is missing A&E, History Channel, and Lifetime.
Aside from that the two are comparable.
How Hulu Live Compares Against the Competition
Hulu with Live TV is a true cable replacement. It offers a lot of excellent features, but if you find it doesn't meet your needs, there are other options.
Here is how it measures against the other players.
Don't forget to use free trials to find a cable alternative that works for you.
Hulu with Live TV Review

Channel Lineup




Price




DVR Space




Availability




Ease of Use



Hulu Live Review
Get live TV and all your local channels plus award-winning original content for half the cost of cable, and no contract!
Pros
✔️ Large channel selection
✔️ Lots of original content
✔️ Some 4K content
✔️ Intuitive interface
✔️ 14-day TV guide
Cons
❌ No free trial
❌ More expensive than others
❌ Base plan only includes two simultaneous streams
Bottom Line
Not many cable alternatives beat Hulu with Live TV if you want a solid streaming service with good functionality as well as a robust channel lineup that includes your favorite sports, news, lifestyle, and major network TV shows.
Yes, it is on the more expensive end of providers. However, it also has a lot of features you may not find elsewhere.
Hulu Live no longer offers a way to try the service for free. However, there are no contract or cancellation fees which allows you to keep it if you like it or cancel it if it doesn't meet your needs.
How much do you pay for television content monthly? 
Related