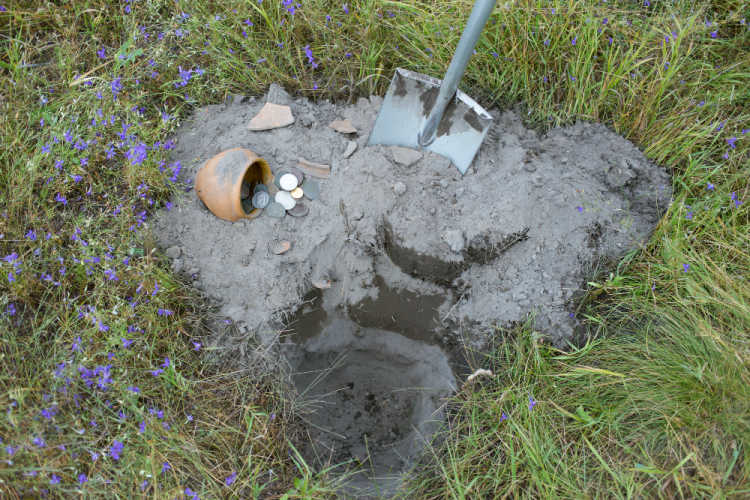 Today's article is a guest post from a young entrepreneur named Preston Yadegar. Preston has built an online platform called the Shareholder Vote Exchange (SVE) to empower individual investors to generate additional income from their existing stock holdings by selling their shareholder voting rights.
When you own a stock, each share represents a vote during the annual shareholders meeting. Many individual investors never vote because they don't care, are lazy, or ignore the email. 
But other entities may see cash value in investor voting rights for specific corporate initiatives, especially when pooled with other investors. However, investors have never had a place to facilitate the sale of voting rights — until now.
SVE is an intriguing platform that is live but still new. Buyer demand for this service still needs to be proven, and some individual investors may have ethical issues about selling votes. Legal precedence is established but not crystal clear. There are also questions about how much our shares would be worth.
But SVE is impressive and can potentially create an additional income stream for investors. So, I'm providing Preston with a platform to share what he's built. 
RBD has no financial stake in SVE, nor am I being compensated in any way for this guest post. I have not tried it, but I think this is a cool idea with potential. When proxy season heats up, I may give it a spin.
Share your thoughts in the comments section.
With that, I'll hand it over to Preston Yadegar, Founder of the Shareholder Vote Exchange. 
---
What if I told you there's a valuable asset in your portfolio which you've overlooked for years? The truth is that most individual investors don't know about (or don't pay attention to) shareholder voting rights. But we believe these rights are financial assets, just like stocks and bonds.
Practically anyone who owns stocks has shareholder voting rights. Investors can exercise voting rights in a company's annual general meetings (AGMs) or special shareholder meetings, where important matters are decided. In these meetings, shareholders vote for members of the Board of Directors, potential mergers and acquisition transactions, executive compensation, shareholder proposals, and corporate auditor selection, among other initiatives.
Although these votes are important, industry statistics show that many retail investors don't exercise their shareholder votes each year. This behavior, known as shareholder apathy, is widespread amongst investors who are either passive or only have a small amount of financial assets.
The unfortunate result is that substantial capital is destroyed insofar as these financial assets remain idle.
Overview
Unlocking this residual value is why I created the Shareholder Vote Exchange (SVE). With SVE, investors can now buy and sell shareholder voting rights for the first time.

For passive investors, you can monetize your votes to generate supplemental income instead of letting these resources go to waste.
Whenever a company holds a shareholders' meeting, investors can sell their votes on SVE to enhance their returns, like an extra dividend.
On the other side of the market, activist investors and company management can acquire these voting rights to have an outsized impact on corporate affairs.
This competition can create economic value by improving corporate governance and ensuring that company resources are put to their best possible use. SVE creates a marketplace where these constituencies can battle for control, all to the benefit of individual shareholders.
How Does The Vote Auction Work?
SVE has created a different kind of market structure specifically tailored to the unique attributes of shareholder voting rights. Rather than facilitating continuous trading (how the stock market works), SVE utilizes a batch auction model for transactions.
In this system, shareholders who want to put their votes up for sale group them into an aggregated batch. As the batch accumulates more votes, it becomes increasingly valuable because it comprises a greater share of the total voting power out there.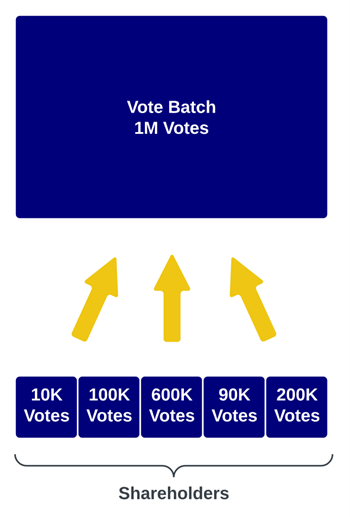 As a result, sellers can earn significantly more in these auctions by pooling their votes together as a unified cohort.
This auction structure also benefits vote buyers who can acquire significant voting power in a single transaction. The auction runs for one to two months before the shareholder meeting date. When the meeting arrives, the participant with the highest bid acquires all the voting rights listed for sale in the batch. In exchange, each shareholder who sold their votes receives a pro-rata share of the winning bid.
For example, let's say three shareholders have 50, 150, and 800 votes for Apple's 2023 AGM. They all decide to list their votes for sale, so the batch equals 1,000 votes in total. The highest bid in the auction is $2,000.
The result would be the shareholders receive $100, $300, and $1,600, respectively (before fees). SVE then deposits the funds into each seller's account, from which they can immediately withdraw cash. 
For more information, check out SVE's official guide to shareholder vote auctions.
How Much Are Shareholder Voting Rights Worth?
SVE is a new platform. For now, there are two ways of estimating how much votes are worth.
On the theoretical side, there's been a fair amount of academic research on the topic. Generally, the best way to think about how much votes are worth is as a percentage of their share price. So if a stock trades for $100 and its votes are worth $2, then the vote yield is 2%.
This measure is analogous to dividend yield, and it works well because it creates a standardized basis to compare vote values across different companies.
With that in mind, academic papers suggest that shareholder voting rights are worth from 0.1% to north of 5%.
A new way of estimating vote values is by observing SVE's markets, which have been roughly in line with the theoretical range. Most votes on SVE have ended up settling around 1-2% of their share price.
For example, SVE recently held a vote auction for Uranium Energy Corporation's (UEC) 2023 AGM. In this auction, 2,100 votes were sold for $235, or $0.11 per vote. UEC's stock was trading for $3.29 on the meeting date, implying a vote yield of 3.34%.
Vote values are determined by various factors, such as the presence of activist investors and the specific proposals being voted upon in a particular meeting. Votes are most valuable when used to create upside value in the underlying company's stock price.
Activist investors can help facilitate these gains in various ways, especially through operational, governance, or strategic changes at a portfolio company. For instance, some activists like Nelson Peltz tend to focus on improving profitability by driving higher revenue growth (e.g., through sales and marketing) or by cutting back on unnecessary expenses (e.g., underperforming product lines).
If an activist is interested in implementing changes in a company, then the shareholder voting rights for that company may become particularly valuable.
In these situations, the incumbent management may fight for control with the activist, who may seek to shake things up to drive growth. As a result, vote prices can rise significantly in these proxy contests, as either the activist or management may bid in SVE's auctions.
As a result, higher vote prices can directly benefit other shareholders who choose to list their votes for sale, creating significant economic value all around.
Pricing
SVE charges a 10% commission for all trades in its auctions. When investors sell their votes on SVE, they keep 90% of their vote value. Buyers pay an extra 10% fee on top of their winning bids.
Because passive investors currently get no value from their voting rights, we believe the 10% take rate is reasonable and still leaves sellers with the vast majority of their vote value.
For buyers, the fee comes out to a small premium on top of the vote value, which is still a significantly cheaper alternative to acquiring shares outright.
This pricing structure means sellers never have to deposit cash to get started SVE. They can simply sell their votes and withdraw their proceeds over time, creating a new cash flow stream.
Aside from its exchange for trading shareholder voting rights, SVE provides a few free tools and services for its users, including its:
Shareholder Meeting Calendar (for keeping tabs on upcoming company meetings and special situations)
Dual-Class Stock Tracker (to identify companies that have multiple classes of stock with different voting rights)
Shareholder Vote Monitor (to keep track of important information and news related to companies you've invested in)
Activist Campaign Archives (a collection of presentations and case studies on activist campaigns for those interested in learning more)
 Check SVE's website for an updated pricing schedule.
How to Get Started
The first step is registering for a free account on SVE's website.
Next, you'll need to verify your shareholder voting rights. SVE offers a free automated service that automatically verifies and sells all your shareholder votes as you receive them over time. This automated service is available at no extra cost and takes just a few minutes to set up.
It also doesn't require access to your brokerage account and is easy to configure if you use Gmail. SVE's platform has passed through cyber-security audits, making your information secure and confidential.
Alternatively, you can manually verify and sell your shareholder voting rights on SVE. To use this option, you can provide your voting information on SVE's website or forward your voting emails to SVE's dedicated inbox.
Whenever you've invested in a company hosting its shareholders' meeting in the next few months, your broker (Schwab, Fidelity, etc.) will email you, letting you know it's time to vote.
To use manual verification, forward these emails to SVE to deposit your voting rights in your SVE account. Then, you're free to sell your votes in their respective auction and withdraw your proceeds once the vote auction has been completed.
Summary
Overall, SVE is an innovative way to extract value from stocks in your portfolio. It's especially beneficial to passive investors who don't utilize their shareholder voting rights.
These investors can sell their votes on SVE to potentially increase their near-term income and long-term returns.
Although trading votes is a relatively new concept, investors can use SVE's service to earn more money from their stock portfolio with little additional effort. 
---
RBD: Thanks to Preston for sharing his platform with RBD readers today.
I had a temp job years ago in the proxy voting space, so I know that companies are willing to spend money for votes. Activists also have an obvious use for the platform. 
Note: The platform would not take all of your voting rights, only the ones you give away. So you could vote your shares for corporate issues you care about and sell those that don't matter to you. Individuals could also purchase voting rights if they believed strongly in a corporate vote. 
You cannot sell ETF voting rights on the platform. ETF and mutual fund investors do not control voting shares because Vanguard, Blackrock, State Street, and other asset managers vote on investors' behalf. There is an industry movement toward pass-through proxy voting (e.g., Vanguard, Blackrock, State Street), but it is still unproven and in the early stages.
What do you think?
Featured photo via DepositPhotos used under license.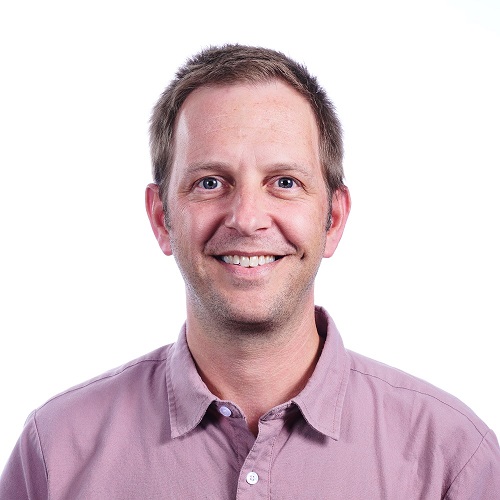 Craig Stephens
Craig is a former IT professional who left his 20-year career to be a full-time finance writer. A DIY investor since 1995, he started Retire Before Dad in 2013 as a creative outlet to share his investment portfolios. Craig studied Finance at Michigan State University and lives in Northern Virginia with his wife and three children. Read more HERE.
---
Favorite tools and investment services right now:
High Yield Savings — Put idle cash to work. FDIC-insured savings products.
NewRetirement — Spreadsheets are insufficient. Get serious about planning for retirement. (review)
Fundrise — The easiest way to invest in high-quality real estate with as little as $10 (review)
M1 Finance — A top online broker for long-term investors and dividend reinvestment (review)