Building an effective employee referral program isn't as daunting a task as it may seem.
In fact, many companies — from small and scaling businesses to enterprises — are implementing employee referral programs today as a means to lighten the sourcing load for their recruiting functions.
(And, in turn, allow those talent specialists to focus on other meaningful work.)
Given referrals were deemed one of the top candidate sourcing avenues for talent teams, according to Employ's 2023 Recruiter Nation Report, it's evident the recruiting approach is one that's worth the time, budget, and personnel investment from organizations of all kinds.
Aside from getting the green light from leadership to build such a program, the only other thing you need to get up and running — and getting a high quantity and quality of referred candidates for job openings from existing employees — is an applicant tracking system (ATS).
"Technology and automation can help companies create more consistent and meaningful relationships, expand talent pools, and track and measure effectiveness," Aptitude Research Founder Madeline Laurano recently wrote for ERE. "Employee referral technology is quickly becoming a core capability in a modern TA tech stack."
And the ATS is an increasingly popular referral solution numerous employers leverage today.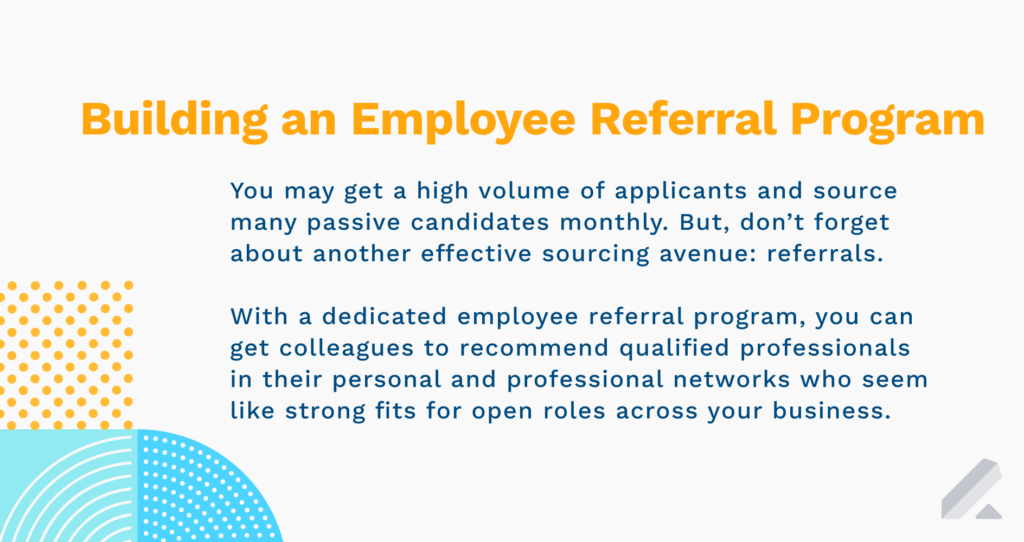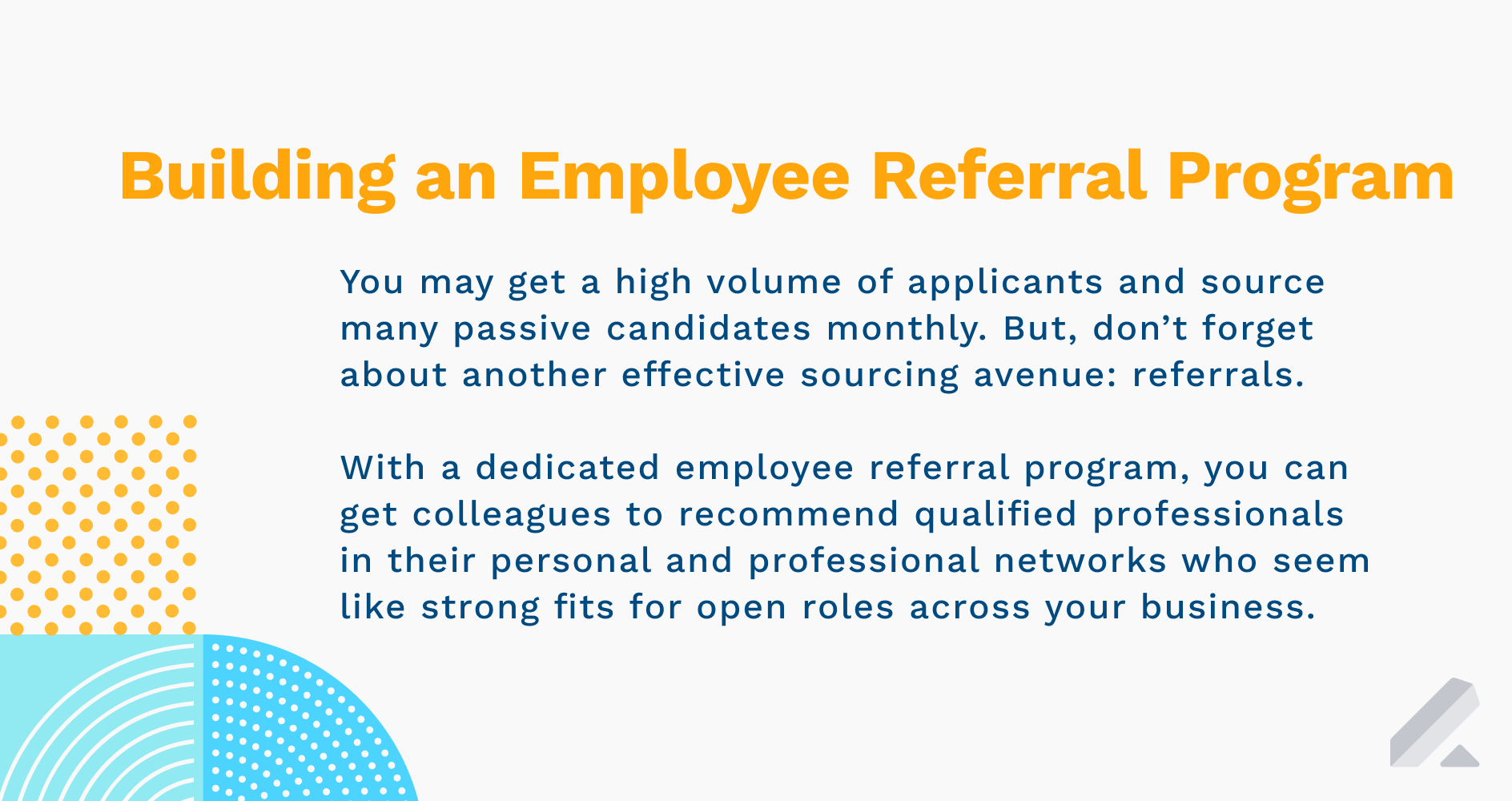 The benefits of employee referral programs for today's HR and talent acquisition teams
Before we detail how ATS software can help you secure a high volume of "successful" referrals (i.e., those who advance far into the hiring process and are hired), it's worth breaking down the key benefits of generating referrals. Here are a few advantages of employee referral programs.
Steady stream of "bonus," good-fit talent to engage
Two in five employers said they planned to leverage employee referrals more in 2023 and the years ahead to enhance their sourcing efforts, a recent Talent Board report found.
That's because referred candidates tend to lead to become high-performing employees.
In short, referrals are a great way to bolster your candidate pool when the quantity of top talent in your database is running dry. (As is the case for or many businesses today).
"Employee referral programs continue to be one of the most effective ways to recruit new workers amid ongoing labor shortages," per the Society of Human Resource Management.


Diminished need to source candidates on job boards
With referrals regularly being submitted into your recruiting database, your recruiters don't have to allocate nearly as much time to proactively source top talent across the web.
Yes, making regular career site and job posting enhancements (in terms of employer branding and search optimization) will always be critical to generating a lot of applicants. And turning to historically fruitful sources to find passive candidates to engage is also a necessity.
But, with a well-oiled employee referral program in place, your recruiting staff invariably saves person hours they can spend on other tasks, like nurture campaigns and pipeline analysis.
Likely decreased hiring costs for referred employees
Our latest Recruiter Nation Report found 12% companies said cost per hire is their most important talent acquisition metric, trailing only time to hire/fill and quality of hire.
Thus, it's clear onboarding new employees in a cost-efficient manner is a strategic imperative for the human resources and recruiting leaders at these companies. (Ask your execs for their top hiring metric they monitor, and it's likely cost per hire as well.)
The good news? You can drive down the average amount of money it takes to hire an employee by turning to referrals. That's because data shows referred candidates referred candidates require less money and time to onboard. (And tend to stay longer at their employers).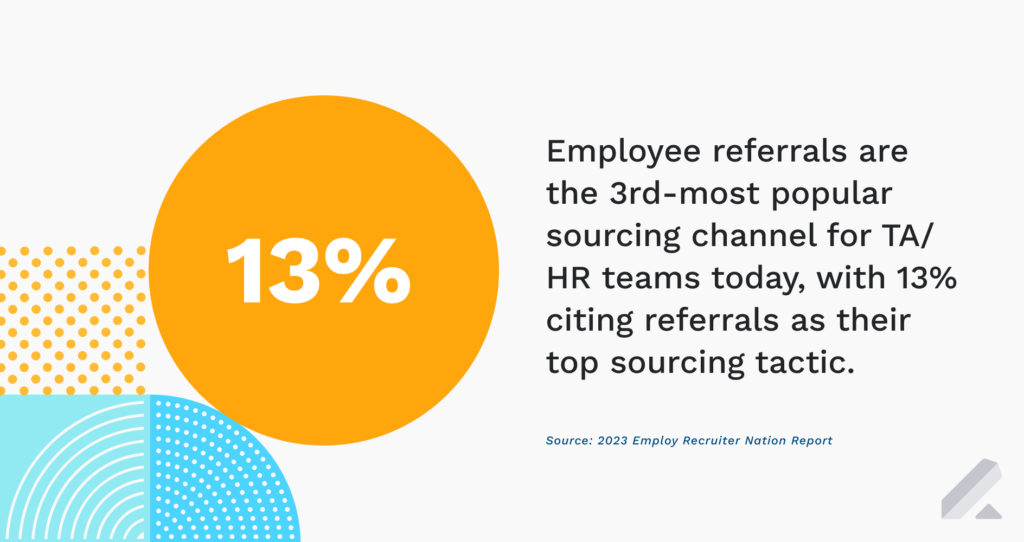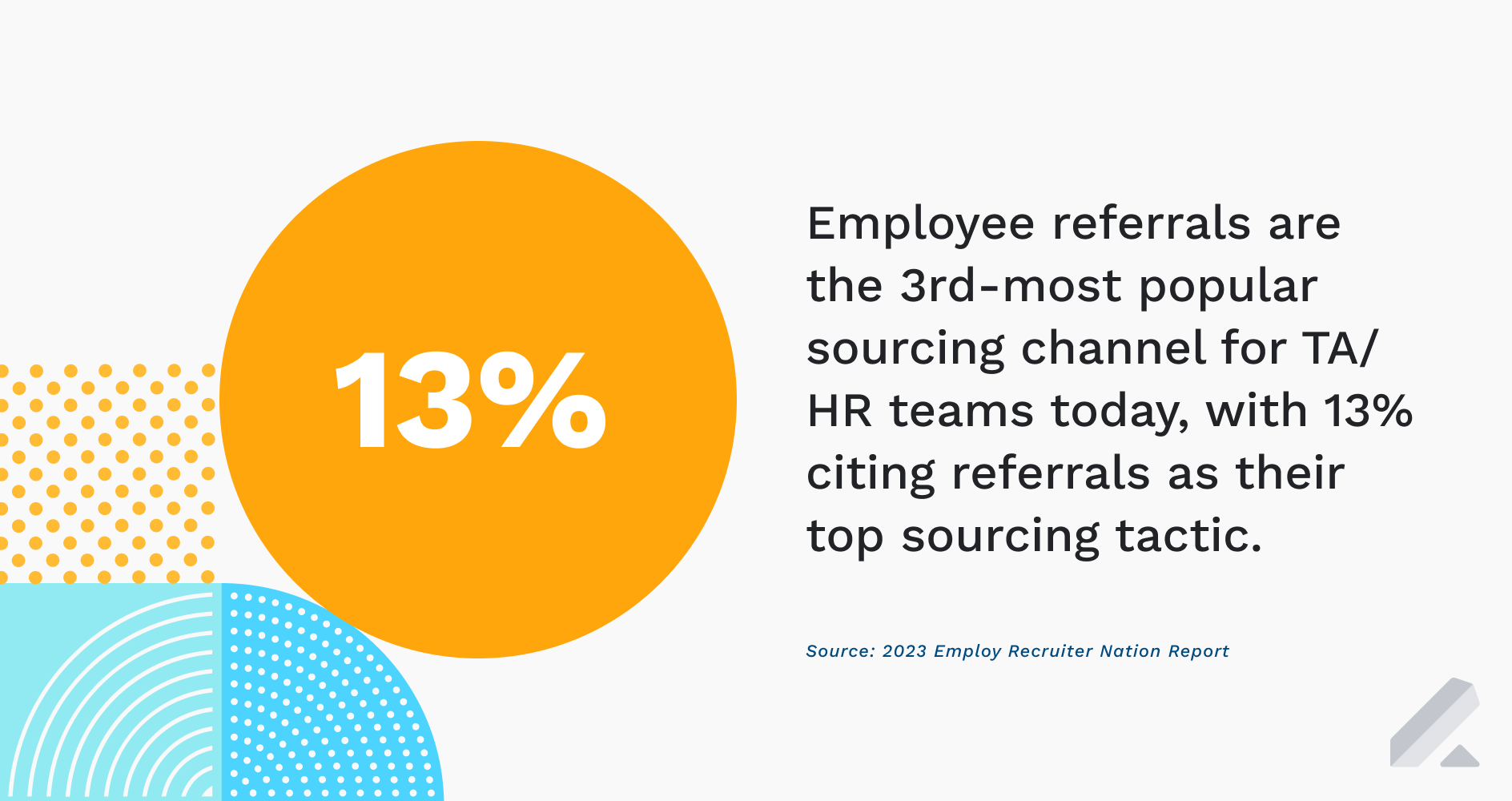 Using an applicant tracking system to build a successful employee referral program
Your HR team and managers agree a referral program will help you hire first-rate employees.
You've been given budget from your executives to invest in tech to drive your referral efforts.
Now, it's time to research and, in time, onboard a leading ATS that enables employees to share referred candidates and your recruiters to see those referrals as they come in.
And you'd be hard-pressed to find applicant tracking software that better facilitates a streamlined and organized referral program — and strengthens all other facets of your recruitment process — than LeverTRM.
Consider how Lever customers use our native referral functionality to simplify submissions of referred leads and better connect with and build relationships with those candidates:
While talent professionals and hiring managers are the primary Lever users, employees can also be granted access for the sole purpose of submitting and tracking referrals.
All these staff members have to do is navigate to the "Referrals" section of LeverTRM, then click "Refer Candidate" next to a specific open role and enter the name of the individual in question for a job posting tied a specific location.
Employees can submit (what they deem are) qualified candidates to up to three different openings in Lever (basically, to make it easy for recruiters to discern which role they'd be most appropriate for based on their skills and experience).
If employees have them, they can upload resumes of referred leads. Or, if they're referring a candidate via a career community or social media (e.g., LinkedIn, GitHub, Wellfound), they can simply refer them with our Chrome extension.
As their referrals are engaged and advanced in recruiters' individual pipelines tied to a given posting, referrers can monitor their progress in the funnel through email updates. And, if a referral is hired, they'll receive an instant notification.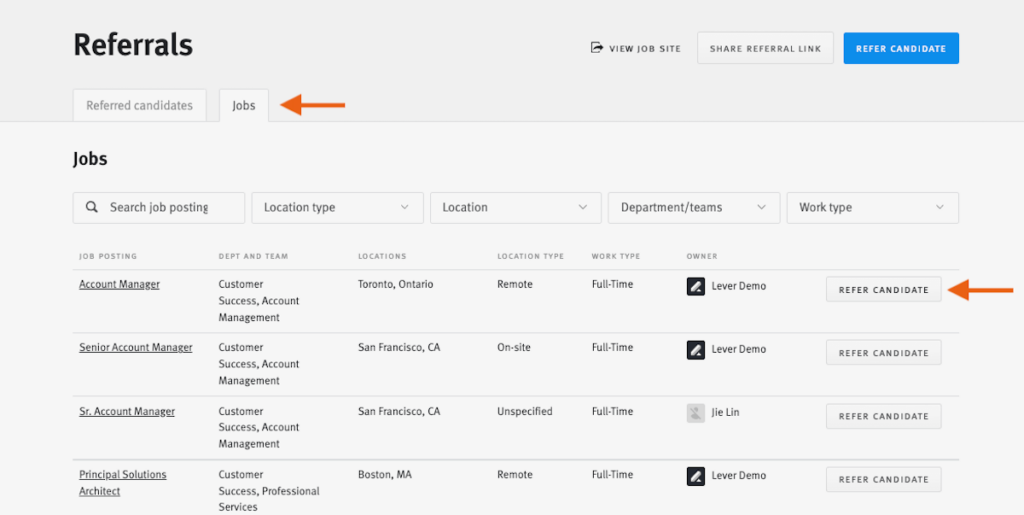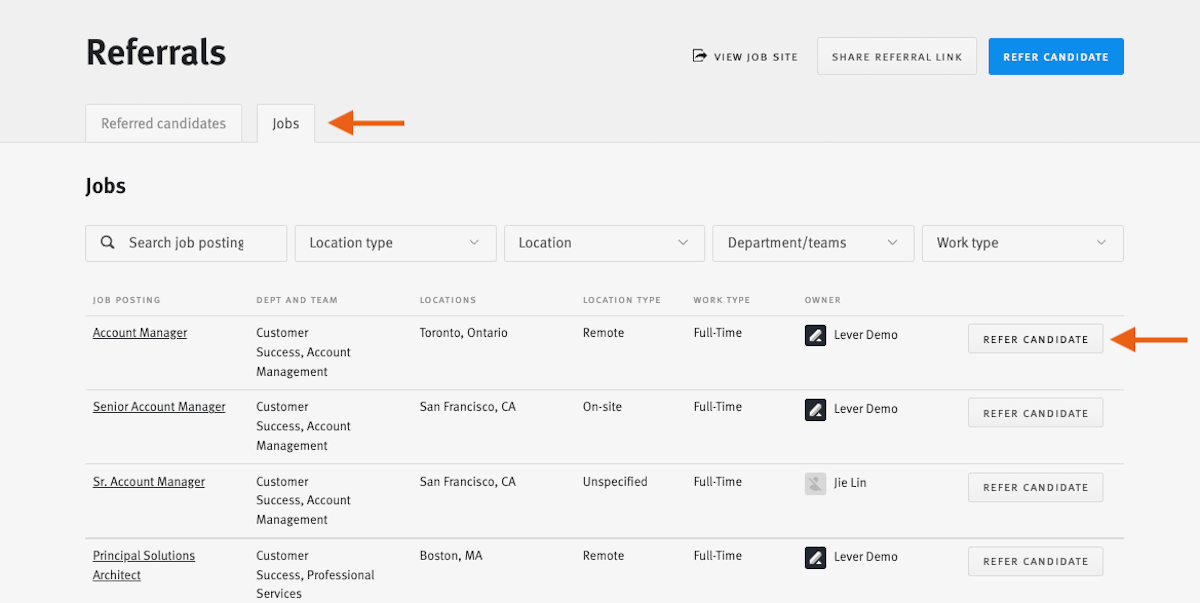 Only in time can you determine if your employee referral program is leading to offer extensions for and the hiring of high-quality professionals (and in a timely, cost-efficient way).
But, with an ATS like LeverTRM, you can easily analyze the performance of each sourcing channel, including referrals, and make adjustments as needed to ensure your recruiters only engage the "right" prospects, based on the insights you glean from your talent analytics
"The best way to analyze current hiring strategies is by looking at the data available to determine which channels are converting the best candidates," Employ SVP People & Talent Corey Berkey recently wrote for Forbes.
And with Visual Insights in LeverTRM, this analysis is a breeze for HR and talent pros.
Find out how you can establish an employee referral program with ease — and enhance your recruitment strategy at large — with our ATS + CRM solution. Schedule a demo today.