Making a career change can be a long process filled with small victories and setbacks. If you're currently going through a career change, chances are you'll need a pick-me-up or two along the way.
---
Here are seven quotes to keep you going and inspire you in your career change journey…
For Those Contemplating A Career Change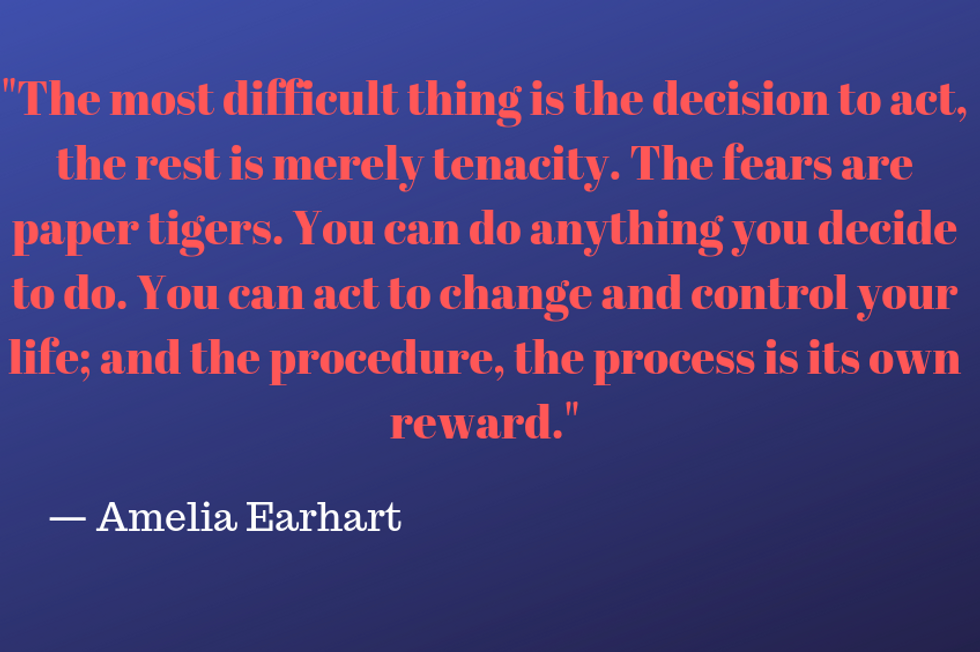 1. "The most difficult thing is the decision to act, the rest is merely tenacity. The fears are paper tigers. You can do anything you decide to do. You can act to change and control your life; and the procedure, the process is its own reward."
—Amelia Earhart
This quote from the famous American aviation pioneer will really hit home if you're early in the career change process. Perhaps you have been on the fence about making a career change for a long time and just making the decision to go through with the change was a stressful process in itself. Sometimes people know in their hearts that it's time for a career change but they're scared for various reasons.
Overcoming those fears and committing to change is a victory! If you're strong enough to make that tough decision, you're also strong enough to go through the career change process and be victorious.
2. "Our finest moments are most likely to occur when we are feeling deeply uncomfortable, unhappy, or unfulfilled. For it is only in such moments, propelled by our discomfort, that we are likely to step out of our ruts and start searching for different ways or truer answers."
—M. Scott Peck
This quote from the psychiatrist and best-selling author is all about getting out of your comfort zone, and that's what leaving behind one career and trying another is all about. You'll have moments of self-doubt and you'll be challenged. Embrace those moments because you'll learn about yourself and push yourself to new limits. It's the best way to grow!
Inspiration For Those In The Middle Of The Career Change Process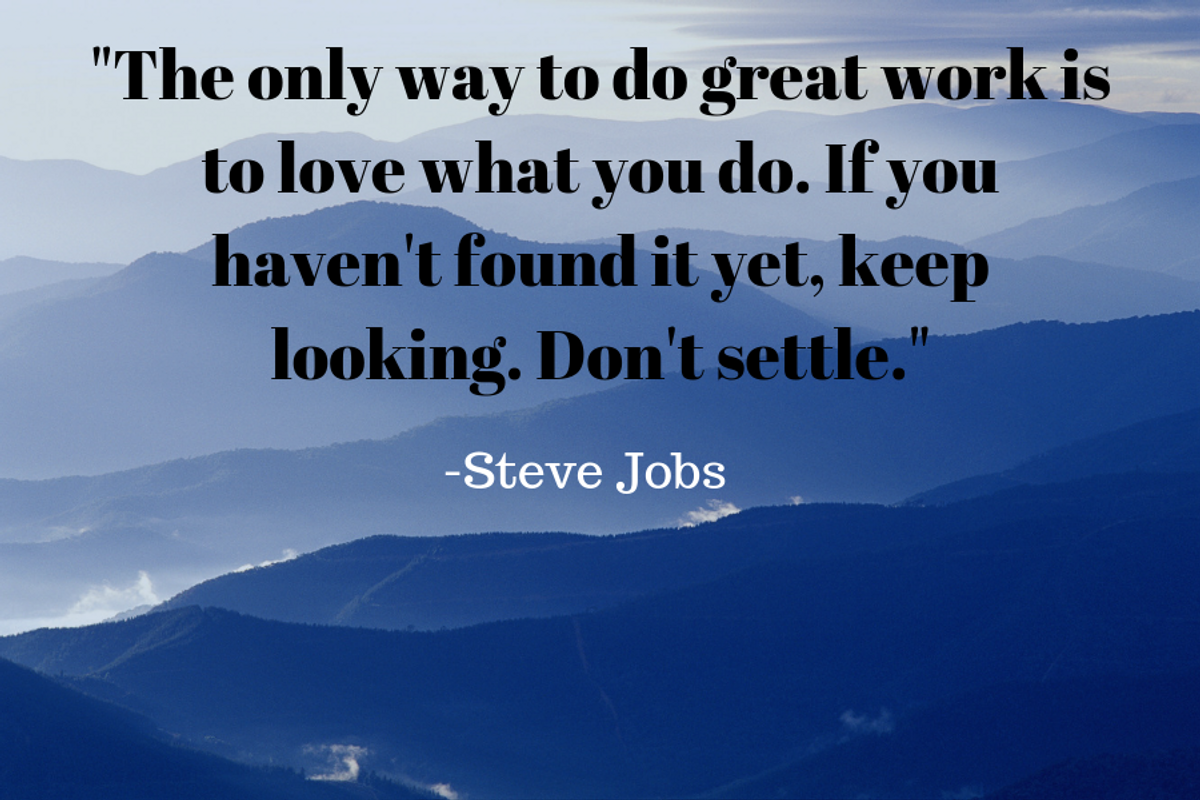 3. "The only way to do great work is to love what you do. If you haven't found it yet, keep looking. Don't settle."
—Steve Jobs
The job search process can be long and frustrating but it's important to remember that good things take time. You don't want to settle for any job, you want the RIGHT job—the job that will be professionally and personally rewarding. Don't stop until you find that job! Jobs, the founder of Apple, never settled and he did pretty well.
4. "You miss 100 percent of the shots you never take."
—Wayne Gretzky
This a very simple quote from one of the greatest hockey players of all time but it carries so much weight. There may be times where you're hesitant to apply for a job because of a lack of experience or you don't feel that you're good enough. If you don't try, you've already failed.
Do the research, prepare accordingly, and apply for the job. Even if you don't get it, you may learn something from the process that will make you a better candidate moving forward.
5. "The future rewards those who press on. I don't have time to feel sorry for myself. I don't have time to complain. I'm going to press on."
—Barack Obama
You will undoubtedly face some setbacks along the way in your efforts to change careers. Don't dwell too long on those setbacks. Learn from them and move forward. As the 44th president of the United States alludes to, feeling sorry for yourself will only slow you down.
As You Near Your Career Change Goal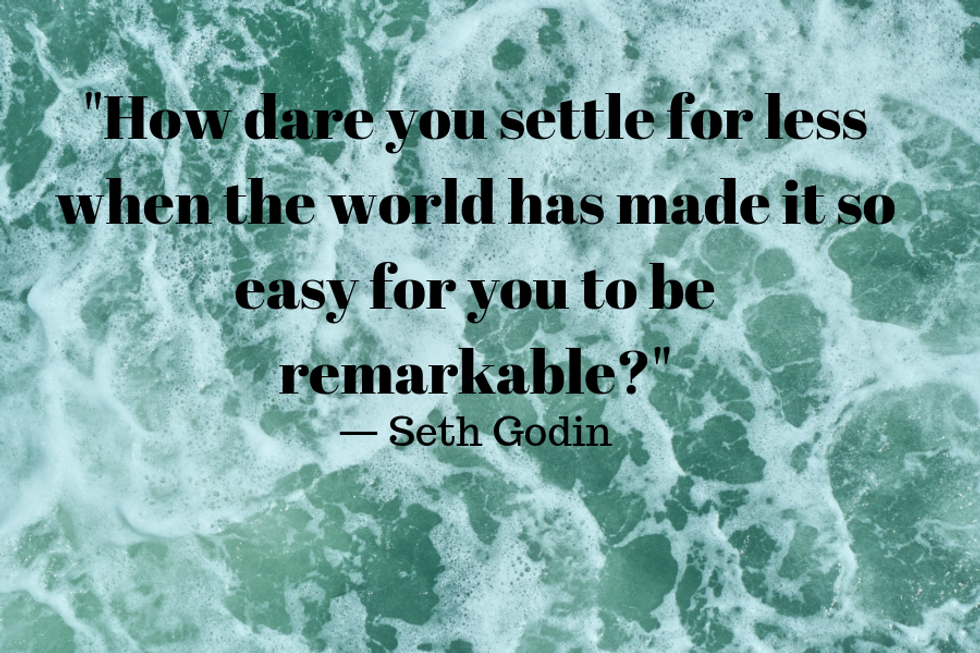 6. "There are no secrets to success. It is the result of preparation, hard work, and learning from failure."
—Colin Powell
If you were successful in your career change transition, chances are you can relate to the former U.S. secretary of state's quote. It took hard work, preparation, and a little failure to accomplish your goal. You'll find that this is the recipe for the most successful ventures in life.
7. "How dare you settle for less when the world has made it so easy for you to be remarkable?"
—Seth Godin
The sky's the limit! Never stop trying to improve and grow in your career. If you don't, you're only selling yourself short. If you ever stop growing in your career, it may be time to make another change. As the American author says in his quote, you have every opportunity to be remarkable—you just need to take it.
Stay motivated during the career change process and avoid these mistakes.
If you need additional help, become a Work It DAILY member today!
This article was originally published at an earlier date.
From Your Site Articles
Related Articles Around the Web