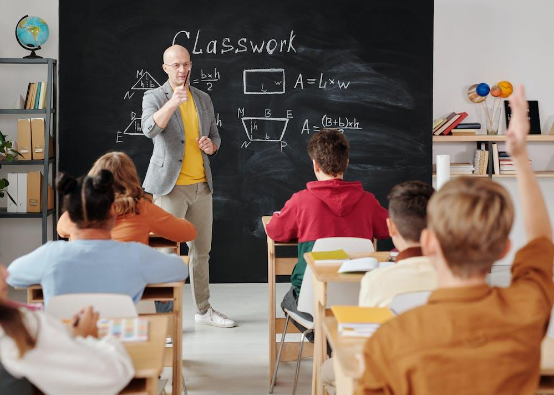 The education sector is among the most dynamic job markets to work in, as it offers a variety of options for those passionate about making a difference in the lives of others. A degree in education is usually a prerequisite for many positions, but even if you don't want to work in a classroom setting, there are plenty of other jobs to pick from. Here are some of the most popular careers in education worth considering:
Teacher
Most people with a degree in education and a deep understanding of a particular subject opt for teaching as a career. It is an ideal option for those who aspire to work in a traditional classroom setting and share their knowledge with students. Some of the duties of a teacher include preparing and delivering lectures, conducting and reviewing assessments, and evaluating students' performance. 
A specialization in early childhood education will help you to teach at the primary level, while a specialization in secondary education is important to be able to teach at higher levels. Even if you don't want to teach in a classroom setting, you can still opt for other options, like online tutoring or educating kids in any non-profit organization. 
However, if you want to teach at a higher level, in a college or university, a masters degree in education is a must. Typically, it takes almost two years to earn a master's degree. However, through accelerated programs, you can acquire a masters in a year. Look up a masters in education online programs 1 year that covers essential topics and methodologies relevant to today's educational landscape.
Librarian
Librarians are responsible for organizing and maintaining library resources alongside serving as information specialists. School librarians work in an educational facility and assist students in finding the books and research materials they need. Librarians curate diverse collections of books, digital media, and other educational materials that cater to students' varied interests and learning needs. They also facilitate navigating online databases and teaching essential research skills. Thus, they are integral to students' academic growth and intellectual development.
A Master of Library Science (MLS) is usually a prerequisite for becoming a librarian. However, some states and institutions also demand certifications or licensure for starting a career as a librarian. Thus, if you want to become a school librarian, you should also fulfill the state teaching requirements.
School counselor
School counselors support students' personal, social, and academic development. They help students make informed decisions about their futures. 
School counselors guide students in academic planning, college admissions, and choosing career options. Some student counselors also address students' emotional well-being by helping them overcome issues such as stress, anxiety, and bullying. School counselors provide individual counseling and conduct group sessions and workshops to create a safe environment for students that helps enhance their overall school experience.
If you want to start working as a school counselor, decide what capacity you wish to function in, as this can influence your academic choices. Nonetheless, you will need a masters degree and state-issued licensure to be able to start working as a counselor.
Education administrator
An education administrator performs all the administrative tasks in any educational institution. Budgeting, making schedules, and planning events in the institution all come under the education administrator. In other words, they develop the plans and oversee all the educational policies within the educational institute. The demand for education administrators is rising in public and private schools, school districts, colleges, and universities. It is expected to rise by 6% by the next year.
Becoming an education administrator requires acquiring higher education in education administration or any other relevant business degree. Although a license and master's degree are the primary requirements for entry into the conventional educational system, a doctoral degree helps candidates reach leadership positions.
Curriculum developer
Curriculum developers design the course and instructional material to fulfill the educational institute's learning objectives. They work with teachers to develop and implement a teaching plan that meets the educational needs of the students. 
Since curriculum development requires highly trained professionals, a master's degree in education or curriculum and instruction is a must to start a career in this niche. Acquiring more specializations and teaching certifications also help professionals stay up-to-date on the newest teaching trends.
School social worker
According to the US Bureau of Labor Statistics, the demand for school social workers will grow 9 percent from 2021 to 2031. A school social worker assists students in overcoming behavioral issues like aggression and bullying. They are also responsible for coordinating with students, their families, and teachers to address the causes of the student's weak performance and help them overcome it, thus leading to their social development. 
You can even start a career as a school social worker with a bachelor's degree; however, if you want to excel in the field, higher education in social work or counseling from an accredited institution is crucial. Moreover, you also need the right type of experience to land the role you want to work in. 
Conclusion
These are some of the best careers that offer plenty of perks and the chance to excel in education-related careers. Whether you aspire to be a teacher, counselor, administrator, or researcher, there are numerous paths to explore. Each of these careers brings its unique set of challenges and opportunities, allowing you to make a profound impact on the lives of others and contribute to the advancement of society as a whole. Furthermore, remember that building a career in education requires plenty of personal growth and the passion for making a difference, so ensure that you have the drive to follow through with your decision when making a pick.