We may earn income from links in this post. Please read this Disclosure for details.
Looking for an unforgettable experience? Going horseback riding in Puerto Escondido is a magical blend of adventure and wellness.
Go horseback riding at sunset,  take an eco tour to the thermal hot springs at Atotonilco or journey through the mangroves to ride a horse on a remote beach.
Horseback riding is definitely one of the top things to do in Puerto Escondido.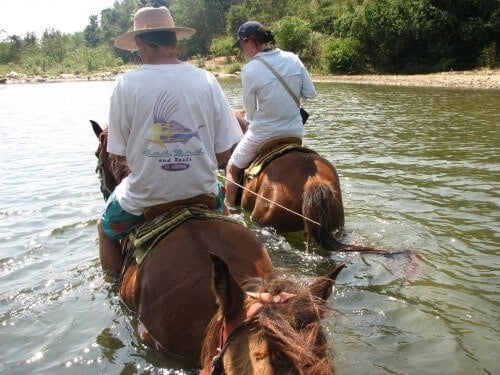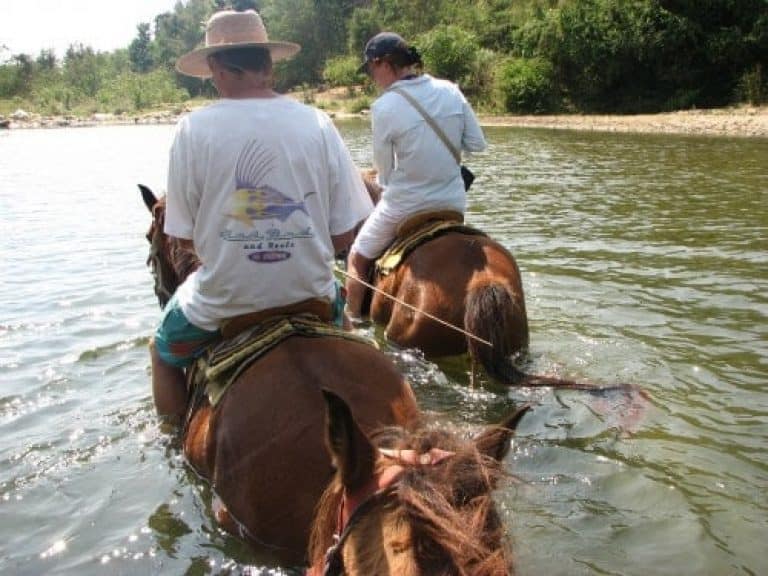 I forge the Manialtepec River by horseback. (Credit: Jaclyn Campbell)
I'm a person who doesn't usually spend much time riding horses. But during my 20+ years of living in and visiting Puerto Escondido, I've actually gone horseback riding many times. 
Horses are also an important part of traditional Oaxacan culture. You'll see horse races at Fiesta de Chila in February, dancing horses and horses on parade at various times of the year.
Can you get to Atotonilco Hot Springs and off-the-beaten path by foot? Sure. But riding a horse is a practical alternative to hiking in the sweltering heat.
And many of the locals own horses and offer some amazing (and unique) horseback riding tours. 
Here are my choices of the best horseback riding tours in Puerto Escondido. They're sure to tempt you to get into the saddle and out into nature exploring.
1. Horseback Riding to Atotonilco Hot Springs in San Jose Manialtepec
To visit Atotonilco Hot Springs by horseback, first you have to travel around 25 minutes to the village of San Jose Manialtepec.
On my first trip to the thermal waters, we had to scout around for the stables and wait for the guide to round up his horses.
We then meandered through a lush canyon filled with diverse flora and fauna interspersed with small farms alongside the Manialtepec River. 
At times we even swam in the river on horseback.  If you've never ridden horseback in the water, it's quite an exciting experience.
You put your trust in the horse completely.
After a refreshing dip in the river, we continued riding into the hills until we reached the thermal spa waters of Atotonilco Hot Springs.
The emerald green hot pools are still in a mostly natural state and the curative waters are revered for their high mineral content.
2. Horseback Riding on River and Beach at Sunset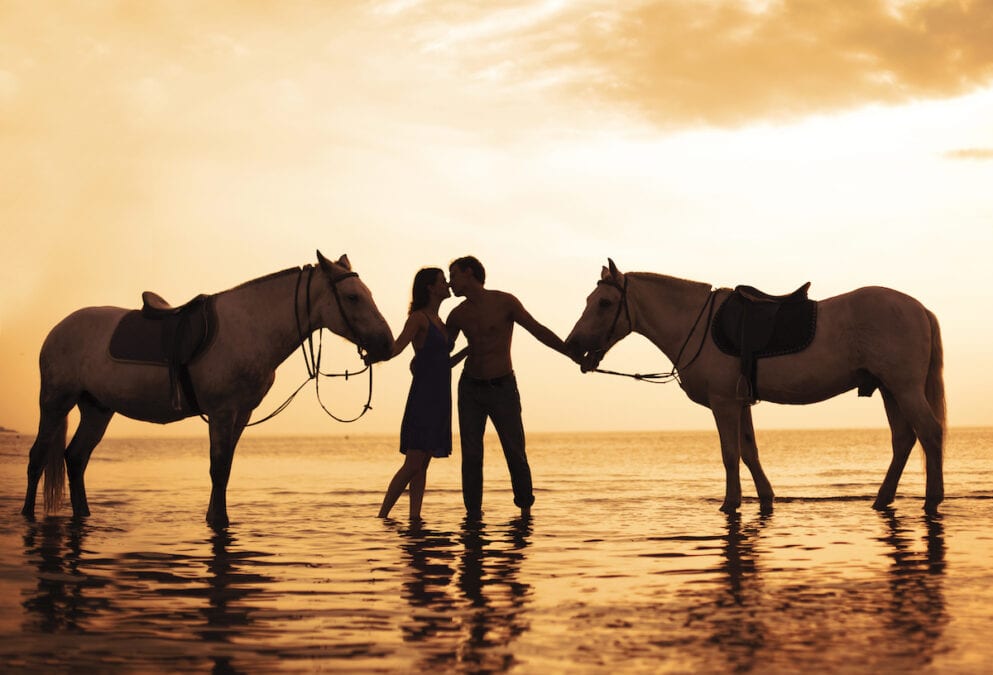 Another popular Puerto Escondido horseback riding experience involves riding on the beach at an estuary where the Manialtepec Lagoon meets the Pacific Ocean.
Your trail ride follows the Manialtepec River past farmland, alongside the mangroves of Manialtepec Lagoon (one of the largest lagoons in Mexico) and along a river bank to Puerto Suelo, a vast white sand beach.
The undeveloped beach stretches for miles and is the perfect place to enjoy a spectacular Pacific Coast sunset. It's one of the most romantic things to do in Puerto Escondido.
With few other people (Vivo Resort is one of the few hotel/condos in the area), you can feel one with nature and your horse on this eco-tour.
The starting point for this trail ride is a 20-25 minute drive from Puerto Escondido.
This eco-adventure includes a local guide as well as pick up and drop off at your hotel in Puerto Escondido. 
By booking your Sunset by Horse (River and Beach) Tour on Viator, you can cancel up to 24 hours in advance without penalty. You also won't need to rent a car in Puerto Escondido.
Tour Duration: 4 Hours
Check prices and availability of the Sunset by Horse (River and Beach) Adventure on Viator.com.
🌟 Pro Tip: There are lots of other outdoor adventures to enjoy at Manialtepec Lagoon (Laguna de Manialtepec). Go bird-watching, spot crocodiles, paddle a kayak, release baby turtles or swim in phosphorescent waters on A Night Tour of Oaxaca's Bioluminescent Lagoon.
3. Horseback Riding in La Barra with Salvador Horse Rentals
One of the first Puerto Escondido horseback rides I ever did was at sunset on Zicatela Beach with Salvador Horse Rentals.
It was an unforgettable experience to ride across the vast expanse of golden sand with powerful waves pounding sea spray into the glowing sky of the setting sun.
As Zicatela Beach is now too crowded for secluded horseback riding, Salvador takes riders into La Barra for trail rides along the beach and the banks of the Colotepec River.
They're ideal places to soak up the still-wild natural beauty of Puerto Escondido and the surrounding area.  
Tour Duration: There are several different options depending on your interest and skill level.
He will take riders of all ages and different experience levels.
Contact: 52 954 111 6934 or email: [email protected]
Tips for Puerto Escondido Horseback Riding
Bring a hat, swimsuit and towel as well as food/water as there are often no amenities in remote areas.
Wear closed-toed shoes or boots. 
Wear insect repellent. Also review our tips for avoiding mosquito bites in Cancun. Dengue and other mosquito-borne viruses are active in Puerto Escondido so the tips can help you on your vacation in Oaxaca. 
Don't try to go horseback riding in the back country alone! You can easily get lost in the rugged areas outside Puerto Escondido. 
It's possible to hike to the hot springs. 
Note that these are different hot springs than those ones in San Miguel de Allende. 
Riding helmets are not available so if you'd like to wear one for safety reasons you'll need to bring your own. 
Not all horseback tours are suitable or safe for small children.
Be sure to book travel safety insurance if you're participating in any outdoor adventure.
Another option is to make a reservation at the Tourist Information booth on the Adoquin near Playa Principal in Puerto Escondido. 
Manned by multi-lingual Gina Machorro Espinosa, the booth is a valuable source of maps, tour and excursion information as well as tour booking services. 
Get more information on transportation, beaches, accommodation and more in our  Insider's Guide to Puerto Escondido  
More Memorable Experiences in Oaxaca
FAQs
What horseback riding in Puerto Escondido is good for avoiding crowds?
Horseback riding to the Atotonilco Hot Springs is a great way to avoid crowds. You'll likely encounter no-one else on your trail ride.
Can you horseback ride in Mexico?
In Mexico, horseback riding is a popular activity among tourists as well as locals who ride horseback into remote areas not accessible to vehicles or motorcycles. It's also popular among charros, the traditional cowboys of Mexico.
Dividing her time between Canada, Guatemala and Mexico (or the nearest tropical beach), Michele Peterson is the founder of A Taste for Travel. Her award-winning travel and food writing has appeared in Lonely Planet's cookbook Mexico: From the Source, National Geographic Traveler, Fodor's and 100+ other publications.
Read more about Michele Peterson.