This post may contain affiliate links. See our affiliate disclosure for more.
Are you a freelance content writer who often experiences writer's block? Or do you struggle with researching golden nuggets for your content and balancing SEO with readability? The good news is, we'll uncover 16 content writing tools to help you with these challenges and unlock your true potential as a freelance writer.
Businesses with blogs generate 55% more website traffic, so you have the power to drive more leads and sales for your clients. However, staying creative, adapting to new writing trends, and sticking to schedules will set you back from becoming a top-notch freelancer.
In this article, we'll walk you through essential online tools for writing, researching, editing, and SEO optimization. They will not only spark your imagination but also help you deliver quality content. Imagine creating articles and blog posts that leave your audience spellbound and hungry for more.
By the end of this read, you'll walk away with a toolkit of content writing tools to boost your efficiency, productivity, and overall writing quality. Get ready to take your freelance content writing career to new heights as you empower your clients to reach their goals.
Let's dive in.
16 Content Writing Tools To Improve Content Quality
Freelance writing tools can help you enhance productivity, streamline your writing process, and produce captivating content. Here are the 16 most trusted tools specifically designed for freelancers like you. Let's discover what each tool is all about, how it can boost your writing efforts, and most importantly, how you can start using it right away.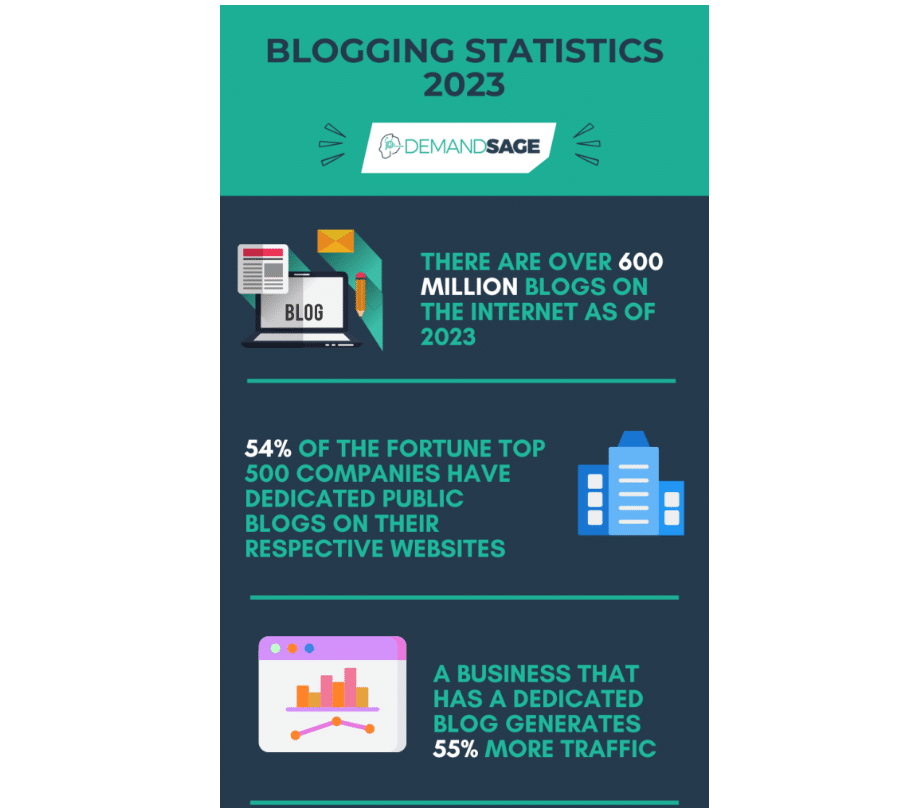 1. Grammarly
Grammarly is an online editor that ensures your writing is free from grammatical mistakes and spelling errors. With its real-time error detection and correction capabilities, Grammarly helps you produce polished and error-free content. Writers can also download the Grammarly browser extension to speed up the editing process.
Here are some ways Grammarly helps writers: 
Checks for clarity and

readability 

Checks for plagiarism

Enhances vocabulary

Checks for tone formality, your domain alignment, and search intent
Let's say you're writing a blog post about medical alert systems targeted toward the elderly and their families. Grammarly can ensure the tone of your content aligns perfectly with your target audience. Just set the writing goals to match your tone as friendly, empathetic, educational, and informative to address their concerns.
While Grammarly is a life-savor for writers like you, don't completely rely on it so you can still work on improving your vocabulary or sentence structure. Make use of writing self assessment tools to evaluate your written communication skills from time to time and boost your professional growth.
Pricing
To use Grammarly, you can sign up for a free account on their website for basic features like spelling and grammar checks. You can also subscribe to the premium version starting at $10.83/month. This version can check wordy sentences, passive voice misuse, and plagiarism.
2. Copyscape
Copyscape is a plagiarism detection tool that ensures your content is original and not copied from other sources.
Here's how it works: 
Copyscape scans your content and compares it to a vast database of web pages.

It identifies any instances of duplicate or plagiarized content.

It provides a report highlighting any content that may be similar to existing online content.

It monitors the web for copies of your content and sends you alerts if it finds any unauthorized copies.
Suppose you are a freelance writer working on an eBook about healthy eating. Before publishing your work, you can use Copyscape to check if any parts of your content match existing original content online. This way, you can ensure your content is unique and authentic. You'll protect yourself from potential plagiarism issues.
Pricing
It offers a free version and a premium version with additional features and checks, starting at $4.95/month for up to 10 pages. You can visit their website and enter your content to check for plagiarism.
3. Hemingway Editor
The Hemingway Editor is an editing tool that improves the clarity and readability of your content. It identifies complex sentences, excessive use of adverbs, passive voice, and other writing errors so you can craft more concise and engaging articles.
Here are some of Hemingway Editor's best features: 
Readability scoring

Readability analysis

Sentence structure suggestions
Imagine writing an email newsletter promoting a new product. Hemingway Editor would highlight any convoluted sentences or instances where passive voice is used excessively. Armed with this information, you can rewrite those sentences and make them more straightforward and compelling for your readers.
Pricing
It's a free online tool without any sign-up or installation required. You can also get a desktop application for a one-time purchase fee of $19.99 with the feature to save and export files.
4. ChatGPT
ChatGPT, powered by OpenAI, is an AI-powered writing assistant that can enhance your productivity, creativity, and writing quality. Freelance writers can engage in a conversation with ChatGPT, requesting prompts or brainstorming suggestions for their writing projects.
Here's how ChatGPT can help you create improved writing pieces: 
Checks for grammatical errors and style improvements

Assists with researching relevant information and insights

Assists with idea generation to overcome writer's block

Offers feedback and suggestions for improving sentence structure and clarity.
ChatGPT can help you generate expert content on technical topics or highly customer-centric topics like solar panels, smart appliances, cloud computing, etc. Let's say you're writing a blog post on data integration tools. You can input the following relevant prompts to get desired help: 
"What are the key features and advantages of Airbyte, Fivetran, and Estuary?"

"How do Airbyte, Fivetran, and Estuary compare in terms of data integration capabilities?"

"Please add pros and cons of each tool in table form."

"Please give real-life companies' examples using Airbyte, Fivetran, or Estuary for data integration?"

"What factors should you consider when choosing between Airbyte, Fivetran, and Estuary?"
The ChatGPT responses ensure your content is well-structured, comprehensive, and tailored to your target audience. The outcome will look like this optimized content: Airbyte, Fivetran, and Estuary. However, AI tools come with limitations like the lack of creativity and human emotions. Here are some of the pros and cons of AI writing tools you should know about before you get started.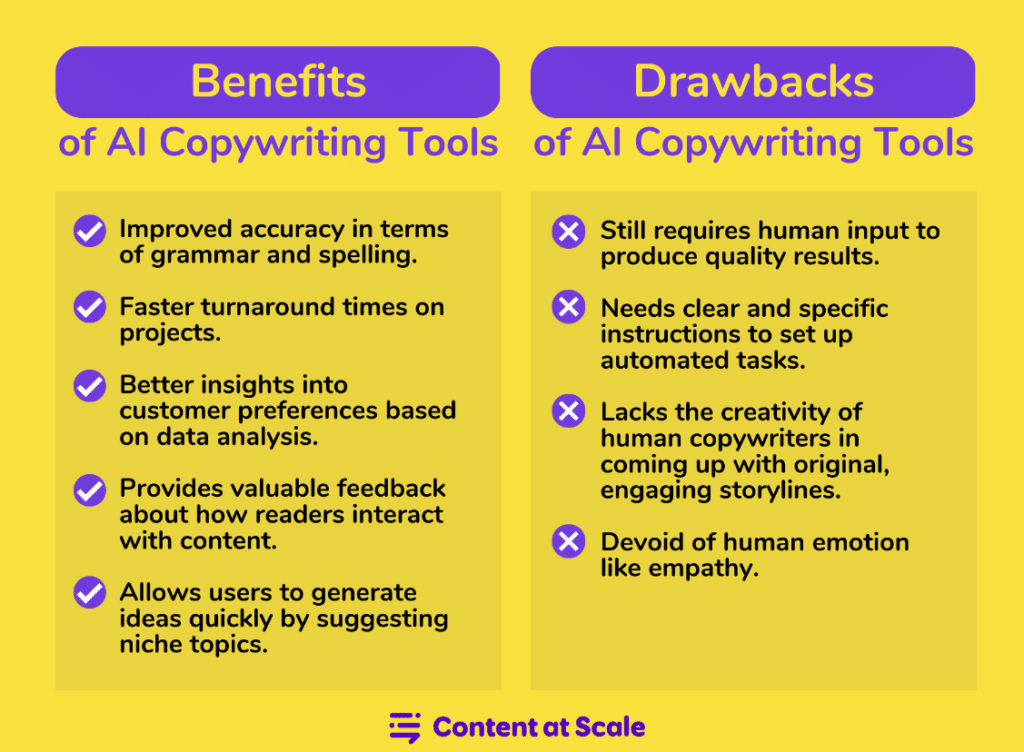 Pricing
It's a free online AI tool that only requires a sign-up to access. However, there's a premium version that costs $20/month. The paid version offers a faster response time and priority access to new features even during times of high demand. Learn more about how to make money with ChatGPT.
5. Frase
Frase is an advanced content marketing tool that combines artificial intelligence and natural language processing to help research, optimize, and create content. This content creation tool offers a suite of powerful tools that help content creators generate high-quality, SEO-friendly content efficiently.
Let's consider a few of the services it offers: 
Key topic extraction

Document analysis and summarization

Source identification and recommendation

Alignment with user intent and audience expectations

Content brief generation with recommended headings and subheadings
Pricing
To get started, sign up on their website and choose a plan that suits your needs. You can leverage the 5-day trial for $1 before subscribing to a paid plan starting at $44.95/month.
6. Google Docs
Google Docs is a versatile cloud-based writing platform that offers seamless collaboration and a distraction-free writing environment. Its real-time editing and commenting features make it ideal for collaborating with clients and colleagues. All work is automatically saved into your Google Drive, saving you the hassle of manual saving and device storage issues.
The formatting features in Google Docs make the content "publish-ready" for editors, saving them valuable time. Make use of the features like styling options, headers, image meta-tagging, and paragraph formatting to keep your content well-organized and consistent.
Let's say you are co-writing a whitepaper with a colleague. With Google Docs, you can both work on the document simultaneously, making edits and leaving comments that are instantly visible to each other. This collaborative environment streamlines the writing process and ensures effective communication throughout the project.
Pricing
It's a free web-based application where you can save your work offline or in the cloud via Google Drive. 
7. Word Counter
The WordCounter is a writing tool to help you calculate various aspects of your text like: word count, character count, sentence count, paragraph count, and average sentence length. Professional freelancers use it to meet specific word count requirements for an eBook, article, blog post or email form, etc.
Using Word Counter, writers can assess if their sentences are too long or their word choice is too complex. They can make necessary adjustments for better comprehension. It's especially useful for: 
Word count analysis

Reading time analysis

Speaking time analysis

Sentence count analysis

Character count analysis

Keyword density analysis

Paragraph count analysis

readability score & comprehension levels' analysis
Pricing
Word Counter is a free online tool. To access, just paste your content on their website and get relevant insights.
8. Evernote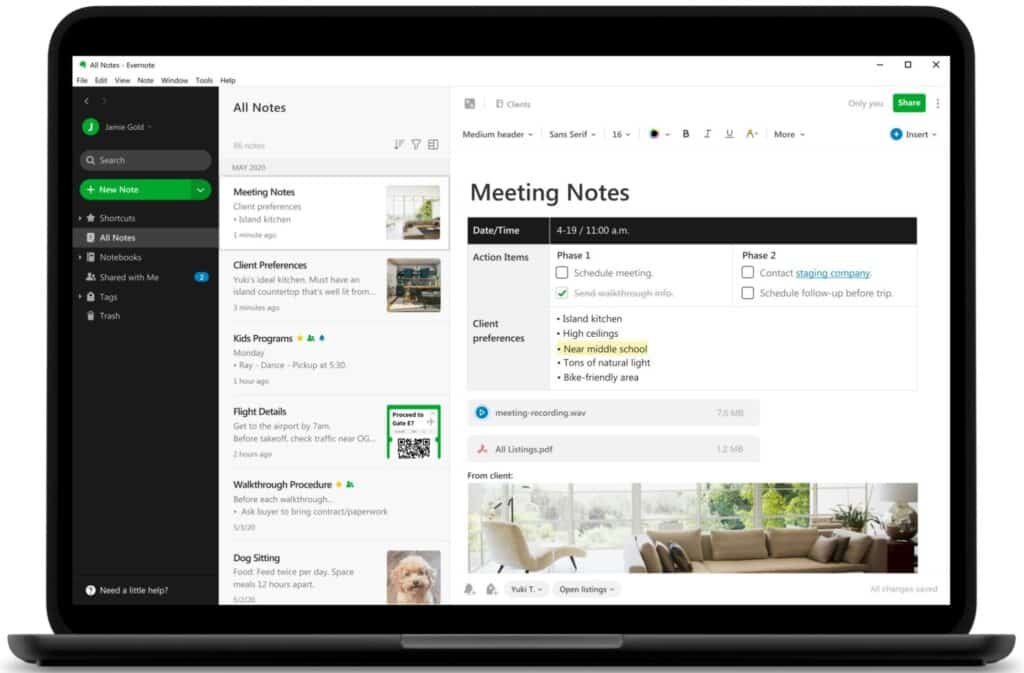 Evernote is an organizational tool that helps freelance writers capture and manage their ideas, research, and notes in a central location. With Evernote, you can create notebooks dedicated to specific topics and save relevant articles, images, and notes during your research process.
Here are some of the best features of Evernote: 
Web clipping

Note organization

Multi-device sync

Collaboration and sharing
Imagine you're a freelance writer working on a blog post about "best restaurants in California". You use Evernote's web clipping feature to save the relevant articles. Further, you highlight key data points and jot down your thoughts on potential subheadings. You also upload photos of eye-catching food menus and interior settings to Evernote for visual inspiration.
With Evernote's multi-device sync, you access your restaurants' research from your computer or smartphone. This helps streamline your writing process for a quality food and travel blog post.
Pricing
It offers a free version with basic features, as well as a premium subscription starting at $10.83/month. Bigger content teams can switch to premium features for higher storage options and other writing benefits. Writers can sign up for an account on the Evernote website or download the Evernote app to start capturing and organizing their writing-related content.
9. AnswerThePublic
AnswerThePublic is a visual keyword research tool that provides insights into user search queries and content ideas. It helps you understand the questions people are asking about your target keywords.
It helps freelance writers with: 
Content ideation

Visual data presentation

Long-tail keyword suggestions
Suppose you are writing a blog post about self assessment tools. AnswerThePublic can reveal popular questions like "Why are self assessment tools important?" or "Are self assessment tools reliable?" Answer these questions within your content. This way you can cater to the needs of your target audience and improve your content's relevance and visibility.
Pricing
AnswerThePublic offers a limited number of free searches per day on their website. However, you can access the premium plans with unlimited searches starting from $49/month.
10. Google Trends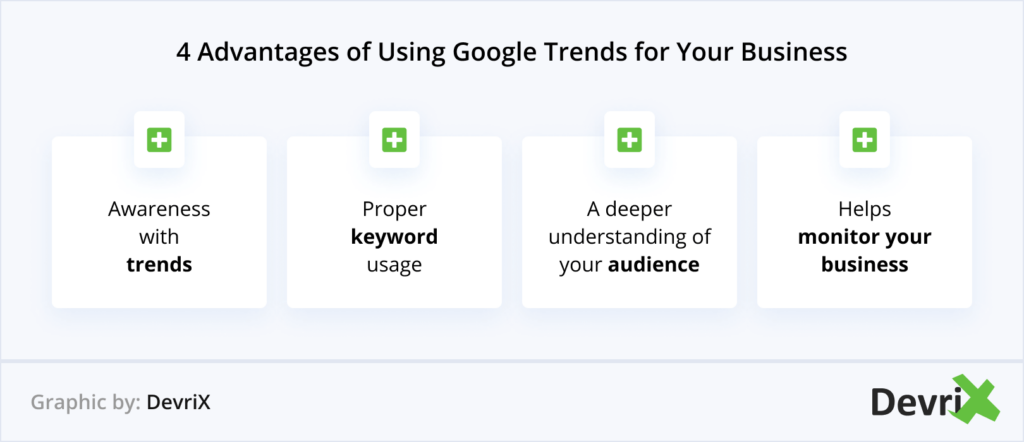 Google Trends is a keyword research tool for understanding the popularity and search volume of specific keywords over time. It helps writers and marketing teams identify current topics and plan their content accordingly.
Top features of Google Trends are: 
Trend analysis

Geographic insights

Related-queries insights
Let's say you are a technology writer and want to write an article about the latest smartphone releases. Google Trends would show you the search volume and interest over time for different smartphone models, allowing you to focus on the most current and popular ones. 
Leveraging this information lets you create timely and engaging content that resonates with your readers.
Pricing
It's completely free to use and does not require any sign-up. Simply visit the Google Trends website and enter keywords to start analyzing search trends and related insights.
11. CoShedule's Headline Analyzer
CoSchedule's Headline Analyzer is an SEO tool that evaluates your headline quality and provides suggestions to make it more attention-grabbing and engaging.
It analyzes factors such as: 
Headline scoring

Keyword analysis

Emotional analysis

Word balance analysis

Headline length analysis

Headline structure evaluation
Suppose you're writing a blog post on the benefits of overseas hiring. Leveraging the tool may recommend you add power words, adjust word balance, or enhance emotional appeal.
It can turn a boring headline like "advantages of overseas hiring" into persuasive headlines like "10 Ways Overseas Hiring Drives Business Success" or "Unleashing Global Talent: How Overseas Hiring Boosts Your Business Success". You get to create headlines that resonate with your readers and increase click-through rates.
Pricing
It's a free online tool for headline analysis. Simply visit the website, enter your headline, and receive instant feedback.
12. Google Keyword Planner
Google Keyword Planner is an SEO tool that identifies relevant keywords and analyzes search volume and competition. It optimizes your content to align with popular search queries.
Using Google Keyword Planner can help: 
Assess competition levels for keywords

Integrate relevant keywords into content

Identify relevant keywords and search terms

Understand keyword performance for advertisers

Generate new ideas through suggested keywords

Obtain insights on average monthly search volume
Suppose you are writing an article on "games for improving vocabulary". Google Keyword Planner would provide you with keyword suggestions such as "board games to improve vocabulary" and "online word games for improving vocabulary," allowing you to incorporate these keywords strategically throughout your review.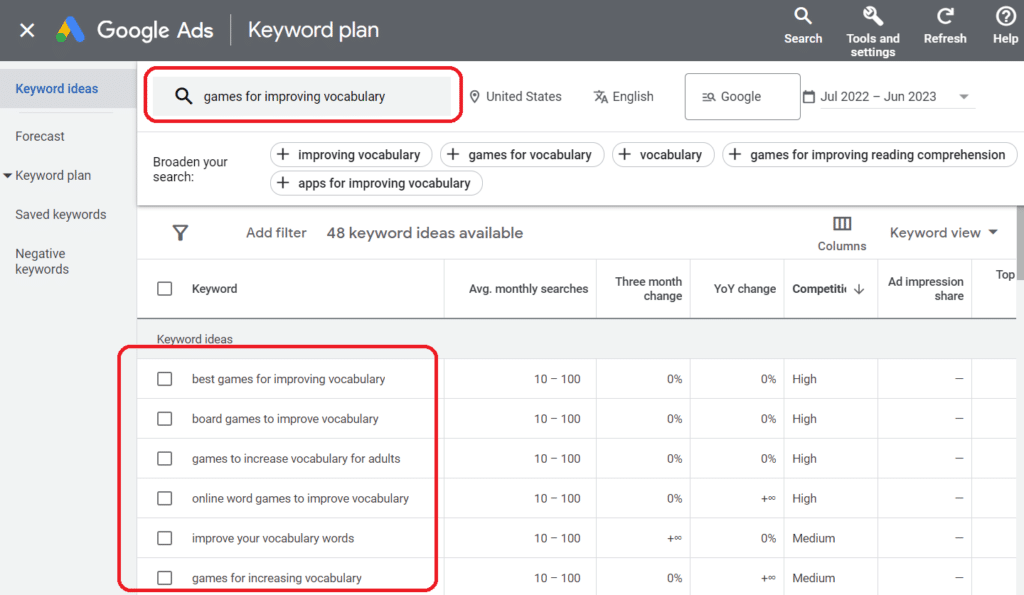 Pricing
It's free to use but requires a Google Ads account to access all features. To access it, sign up for a Google Ads account and navigate to the Keyword Planner tool, then start exploring keyword ideas and data for your content.
13. SEMrush
SEMrush is a comprehensive SEO tool that offers valuable insights into keyword trends, search volume, and the strategies your competitors use. 
It analyzes your competitors' top-performing articles on the topic, understands the keywords they are targeting, and gathers ideas to create more comprehensive and competitive content.
Key features of SEMrush include: 
Backlink analysis

Keyword analysis

Keyword research

Competitor analysis

Content optimization

Content gap analysis
For example, when writing for a pet insurance blog, using SEMrush can provide invaluable insights to optimize your content. Let's say you're focusing on the keyword "pet insurance benefits." Entering this keyword into SEMrush gives you all related LSI (Latent Semantic Indexing) keywords, along with their search volume, traffic potential, and difficulty ratings.
The online writing tool suggests keywords like "best pet insurance coverage," "affordable pet insurance plans," and "importance of pet insurance," to give you insights into what users are searching for so you can tailor your content accordingly.
Armed with this information, you can create comprehensive and targeted articles that address the specific needs of your readers. This maximizes your blog's visibility and provides valuable information about pet insurance benefits.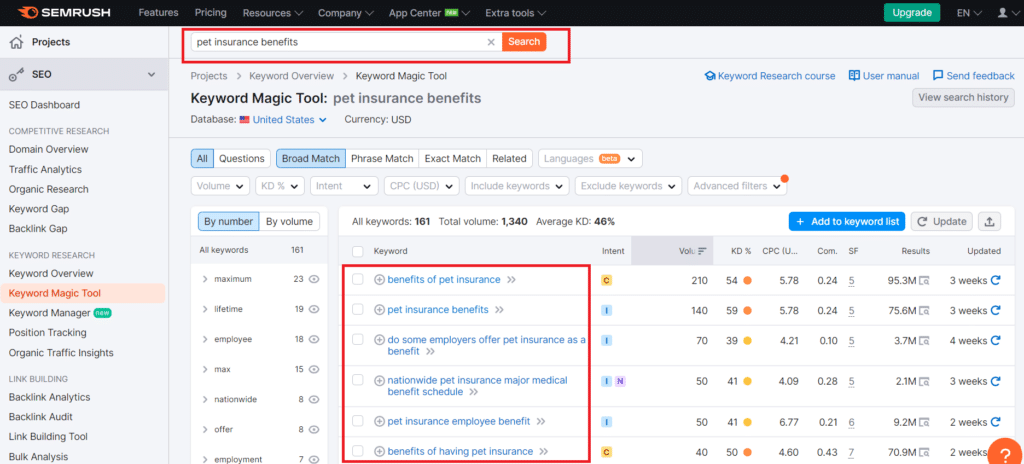 Pricing
It's a paid tool with subscription plans starting at $129.95/month. However, it offers a 14-day free trial as well. Sign up on their website to access the platform.
14. Ahrefs
Ahrefs is an all-in-one SEO tool to conduct in-depth keyword research, backlink analysis, and competitor research. Highly-paid freelancers use SEO tools like Ahrefs to rank their clients' websites for higher online traffic and sales.
Let's have a look at the Ahrefs' features to better understand how it works: 
Ahrefs' Content Explorer helps you

find popular and highly shared content

in your niche.

Allows for

extensive keyword research

including search volume, keyword difficulty, keyword ideas, and SERP analysis.

Provides detailed backlink data

so you can analyze your website's backlink profile and track your competitors' backlinks.

The site auditing feature

checks your website for SEO issues

, such as broken links, duplicate content, and crawlability problems.
Suppose you are writing an article on the latest fashion trends. You can use Ahrefs to discover relevant keywords such as "spring fashion trends 2023" or "summer wardrobe essentials," so you can optimize your content and attract targeted traffic to your fashion blog.
Pricing
It offers free access only to Ahrefs Webmaster Tools for site auditing. However, subscription plans start at $99/month for more advanced tools. You can sign up for an account on their website and choose a plan that suits your needs.
15. Yoast SEO
Yoast SEO is a widely-used WordPress plugin that optimizes your content for search engines. It offers valuable insights on keyword analysis, readability level, and metadata, helping you enhance your content's SEO (search engine optimization) performance. It assists with: 
Content analysis

SEO recommendations

XML sitemap generation

Social media optimization
Pricing
It offers a free version with basic SEO features as well as a premium plugin with advanced functionality starting at $99/year. To get started, install the plugin from the WordPress Plugin Directory and configure the settings. Use it to optimize your website's content.
16. Google Analytics
Google Analytics is a widely-used web analytics tool to track website performance and gain insights into your audience. It helps you understand user behavior, measure your content for effectiveness, and make data-driven decisions.
Google Analytics tracks and measures various aspects of website performance: 
Shows where visitors are coming from, such as

organic search, paid ads, or referrals

.

Reveal the

age, gender, and location

of website visitors, helping understand the target audience.

Highlight factors like

page load times and site speed

, crucial for ensuring a smooth user experience.

Offers

real-time monitoring

, alerts, and integration with other tools, enhancing the overall website tracking capabilities.

Shows how

visitors navigate through the website

, which pages they visit, and how long they stay, providing insights into content performance.
Pricing
It's a free tool with basic features for small businesses. To set it up, create a Google Analytics account, add the tracking code to your website, and configure the desired settings. Access the data and insights through the Google Analytics dashboard.
What Tools Are Right for You
Are you skeptical about finding the right content writing tools for your freelancing business needs? We recommend you go for the ones that align with your requirements and workflow. Consider factors such as functionality, ease of use, and integration abilities.
Think about value for money and ask yourself: Are the tools worth the investment? Assess their benefits and weigh them against the cost. Explore the possibilities, and experiment with different options. You'll find the tools that resonate with your style and amplify your skills.
Utilize these tools to bring greater website traffic, generate more leads, and boost sales for your clients. You can optimize your content for search engines, craft engaging and error-free writing, and unlock fresh ideas. With the right tools by your side, your freelance content will get more creative and useful for your audience.
Want to keep updated about emerging freelancing trends and strategies? Head over to Millo.co now. We provide you with free access to a treasure trove of articles, podcast episodes, guides, courses, and much more. All are aimed at taking your freelancing to the next level.
Keep the conversation going…

Over 10,000 of us are having daily conversations over in our free Facebook group and we'd love to see you there. Join us!